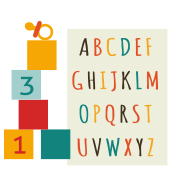 >
The Kapiti Team
This is our team of teachers and staff at Educare Kāpiti. Scroll through to find out more about our teaching team.
Hayley Pimlott
Centre Manager
I am a passionate and dedicated teacher with over 15 years in ECE and Education.

I have lived on the Kāpiti Coast for the last 6 years and I enjoy spending quality time with my family and enjoying the lifestyle that the coast has to offer.

Here at Educare Kāpiti I lead a team of experienced, fun and loving teachers in a beautiful environment catering for infants right through to tamariki transitioning to school.
I am committed to ensuring every child in our care feels loved in a safe and learning rich environment. Relationships are very important to me and I enjoy getting to know families as much as I do children. Continuity of care between home and centre is paramount to your child's sense of belonging and well being.
I look forward to getting to know you and your tamariki.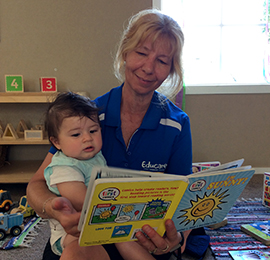 Mandy Hope
Assistant Manager, Registered Teacher
I am a happy outgoing person with a fun, loving sense of humour. I moved to the Kapiti Coast with my family in 2002. I have three grown children and two beautiful grandchildren.
My passion for teaching led me to attend Victoria University where I gained my teaching qualification.
I am dedicated to working with our youngest learners. It thrills me to watch them learn and grown. I feel privileged to be part of their and their families lives.
I believe that play should be the base of learning since children learn best by doing. I am passionate about providing a fun, safe, nurturing and vibrant environment that enables each child to explore, be curious, question and challenge while developing their own interests.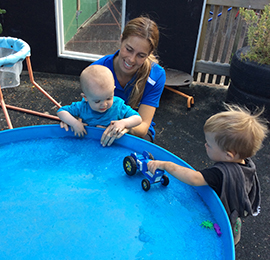 Rebecca Sherborne
Registered Teacher
I am an experienced, passionate and a creative educator focused on insuring our tamariki have the best possible learning outcomes - a trusting and respectful approach with children inspired by Magda Gerber and the RIE philosophy. I recently moved to Kapiti after studying Diploma in Early Childhood Education in Sydney and working with infants and toddlers for 7 years at a Long Daycare Centre in the Northern Beaches. I am excited to be part of the Kapiti Team and look forward to getting to know you and your tamariki.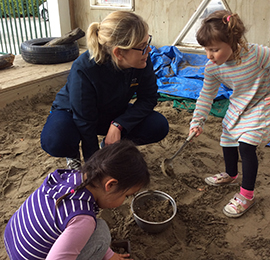 Margaret Dixon
Registered Teacher
Kia Ora, my name is Mags. I am an experienced and dedicated teacher. I believe in forming caring and respectful relationships with tamariki. Originally from the UK, I moved to New Zealand in 2009, whereby I trained to become an early childhood teacher with the New Zealand Tertiary College. I now live in the Kāpiti Coast with my husband and two young daughters. I consider it a privilege to be a kaiako with our early learners. I am passionate about inspiring curiosity and imagination in young children and I endeavour to support them to inquire, experiment, discover and to have lots of fun.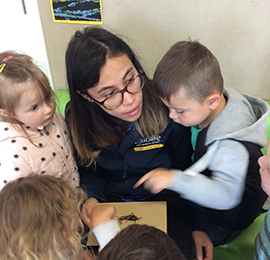 Joana Forbes
Registered Teacher
Kia Ora! I am Jo and I am fully qualified early childhood teacher. I am dedicated to working alongside you and your child to provide a fun, safe, nurturing and vibrant environment for them. I enjoy contributing to the intellectual, social, physical and emotional development of the children and seeing them grow into confident individuals.
I live locally on the Kapiti Coast, my family background is Indonesian and I enjoy music and dance. It is great to be part of an awesome team here at Kapiti and I look forward to getting to know your child and your tamariki.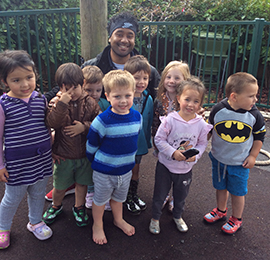 Ken Ah-Honi
Registered Teacher
Mālo ni! My name is Ken Ah-honi, I am a proud Tokelauan and Samoan, born and raised in Porirua. I come from a large family of 9 siblings including myself and they are a very important part of my life. I have many nieces and nephews and I have happily contributed to their upbringing. They are the reason I chose to pursue a career in Early childhood education. Who wouldn't want a job where you are given the opportunity to help shape and build the foundation of our children's education, while having a blast learning through play. I feel very privileged to be working with such an amazing team here at Educare and I look forward to building great relationships with all the children and their whanau.
Fakafetai lahi lele!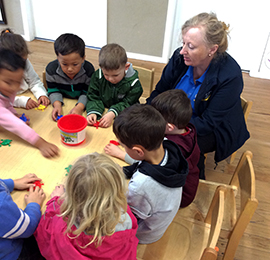 Wendy McGregor
Registered Teacher
I trained as a primary teacher when dinosaurs roamed the earth. But then got distracted and spent a long time working as a communicator capturing audio sound bites and putting complex stories into simple language. It wasn't until I had a child of my own and spent time in a preschool, that I realised how exciting the first five years can be and how the ECE curriculum supports and nurtures enquiry, exploration and discovery. I quickly added an early childhood qualification to my CV. I see my role as threefold, to help provide a warm and caring environment for your tamariki, to help them become the best they can be and to share their milestones along the way with you. ECE is fun and that's the way it should be.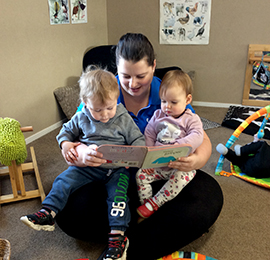 Aleisha Griffith
Registered Teacher
I am an easy-going and dedicated teacher. I believe every child deserves a loving and nurturing learning environment and am passionate about making preschool feel like a home away from home for every child. I graduated from Canterbury University with a degree in early childhood in 2016. I grew up in Paraparaumu but lived in Christchurch for 6 years before moving back here with my beautiful daughter. I strongly believe in play based learning and following children's interests while also challenging their way of thinking and doing. I love being part of the friendly team at Educare Kapiti and look forward to meeting you and your family.
Ingrid Law
Teacher
I am a dedicated teacher and enjoy working in all areas across the centre. I love watching and helping our children to learn and grow.
Every child at Educare needs to feel loved and safe and this is very important to me, I love being a part of your child's learning and building a relationship with them and their families. Here at Educare we are one big happy family.
I live on the Kapiti Coast and have 3 children and 3 grandchildren. In my spare time I like spending time with my grandchildren, being in the great outdoors and enjoy sport.
Mike Debbage
Nutritionist
Welcome, my name is Mike and I am the nutritionist at Educare Kāpiti. I have had many years' experience within the food industry before I started my role here with Educare. My love of food and cooking for others started from a young age. I now have my own young family which I believe helps me to cater to the taste buds of little ones. I also enjoy being able to provide healthy and nutritional meals for all of the tamiriki at our centre.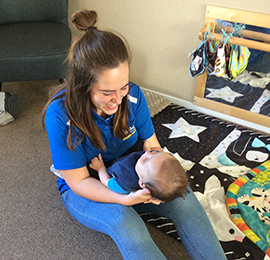 Teesha Scott Te-Ariki
Teacher in Training
Hi my name is Teesha. I am currently in my third and final year of my degree in Early Childhood Education at Whitireia Polytechnic. I am based in the Kiwi Room with the infants. I am passionate about babies as I love to watch them develop their skills in a fun, loving environment. I am excited to be part of the Kapiti Team and look forward to getting to know you and your tamariki.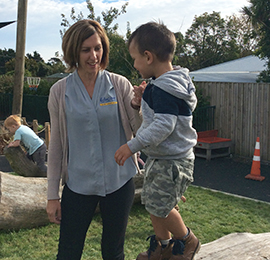 Kaylene Berry
Administrator
Hi, my name is Kaylene and recently joined the Kapiti team as an Administrator working part-time. I have lived on the Kapiti Coast since 2017 with my husband and our two girls and enjoy the lifestyle that the Coast has to offer. I look forward coming into work and working alongside a great bunch of teachers who are all clearly passionate about early childhood education which is evident from the happy smiles and laughter heard from the children when I am in the office.
I am excited to work alongside the teachers and all the families in helping to create a fun, loving, creative, supportive, caring and safe environment. I look forward to meeting you and your little ones and to help you with any enquiries you may have.