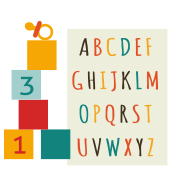 >
The Tikipunga Team
This is our team of teachers and staff at Educare Tikipunga. Scroll through to find out more about our teaching team.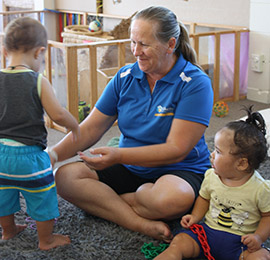 Jenny Heke
Centre Manager
Kia Ora my name is Jenny the Centre Manager at Educare Tikipunga. I am a fully registered teacher and have my diploma in Early Childhood Education.
I am also a mother of three and a grandmother of five, the youngest attends our daycare so I am lucky to be able to work with him here at Educare Tikipunga. I am also the owner of two dogs, one cat, one cockatiel and three very fat hens.
My interests are baking and gardening and I like to incorporate these into our program. I am also passionate about the environment and care about all living things.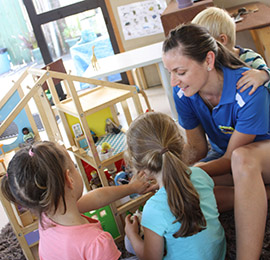 Hollie Brotherhood
Assistant Manager - Registered Teacher
Originally from England I moved to New Zealand with my husband in 2005, and we made Whangarei our home. I qualified as an early childhood teacher in the UK and have experience working in English preschools and New Entrant classes. Since living in New Zealand I have had experience working in different centres in Whangarei, and have my teaching Diploma and Bachelor of Teaching Degree.
Having worked at Tikipunga a few years ago, I am excited to be back supporting Jenny in her role as manager and leading the Pukeko class in their transition to school. I also have my own two little kiwis Ivy and George who attend Educare Tikipunga with me and so understand the joys and stresses of being a mum.
Hollie is currently on maternity leave.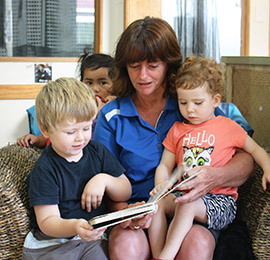 Christine Colls
Registered Teacher
Kia ora. My name is Christine Colls and I am one of the teachers in the Kiwi group.
Over the years I have gained experience in several centres around Whangarei and have a passion for working with infants and toddlers.
I have full teacher registration and a degree in Early Childhood Teaching.
I live on a lifestyle property with my horses, dogs and cats.
Emily Connelly
Registered Teacher
Kia Ora, I'm Emily and I live semi rurally with my partner and our two young children. I have been teaching in Early Childhood for around five years and in that time I have gained my Bachelors Degree in Early Childhood Education through Te Rito Maioha. I have been surrounded by many positive influences that have supported me to develop a philosophy based around respect. I value Te Ao Maori approaches to learning, respecting the natural environment and all living beings within it. I descend from Ngati Whatua and have grown up on the Kaipara Coast and later moved to Whangarei. As a whãnau we enjoy spending time together outdoors, enjoying nature and being present in the now. I look forward to working alongside nga tamariki and whãnau throughout our shared learning journey.
Kassey Harris
Registered Teacher
Tēnā Koutou katoa
Ko Pouerua to Maunga
Ko Waitangi to Awa
Ko NgaPuhi me Ngati Whatua oku Iwi
Ko Ngatikawa te Hapu
No Oromahoe ahau
Engarei Kei Tikipunga
Ahau e Nono ana Inaianei
Ko Kassey Harris toku ingoa
Kia Ora, my name is Kassey and I have in Tikipunga with my partner Mark, our son Ethan and daughter Amelia who currently attends Educare Tikipunga. I have completed the Bachelor of Education ECE Specialisation with the University of Auckland. I am excited to be working here and Tikipunga and getting to know you and your children and working alongside you.
No reira tena koutou, tena koutou, tena koutou katoa.
Alana Laybourn
Training Teacher - Year 2
Kia Ora my name is Alana and I am one of the under two's teachers. I am currently studying Early Childhood Education through the Open Polytechnic.
I have two sons, Jordan, who is at school, and Carlo, who attends Educare Tikipunga. You might see me around Kensington Park at the Hockey pavilion as I play and coach a lot of Hockey and have represented the New Zealand Hockey Black Sticks team since I was 18 including at the 2012 London Olympics.
I have a real passion with working with children and toddlers and feel very privileged to be a part of these very important years in each child's lives.
Moyra van Rooyen
Teacher
Kia ora whānau,
My name is Moyra van Rooyen, and I have recently joined the team here at Tikipunga Educare. I was born in South Africa but moved to Whangarei with my family in 2000. I now live in Kensington with my partner Jamie.
I have a Bachelors Degree majoring in Criminology and Psychology and found my studies that focused on children to be one of the most interesting.
I value Tikanga and Te Ae Māori and have a passion in using these in my practice. Every day I continue to learn about Tikanga and Te Ae Māori and feel privileged to be able to pass on my knowledge to your tamariki. I also enjoy playing and being outdoors and to be able to do so with children is an added bonus!
I look forward to getting to know you, your tamariki and whānau!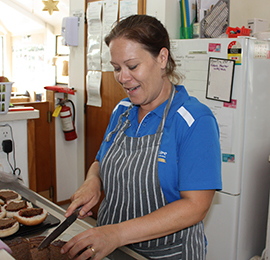 Angie Hawke
Nutritionist
Kia Ora! I'm Angie Hawke and I'm the nutritionist in the kitchen here at Educare Tikipunga. I am a born and bred Northlander, living in Whangarei all my life. I have 4 children, 3 of which have been through Educare Tikipunga before I worked here. I look forward to meeting your tamiriki and cooking delicious kai for them.