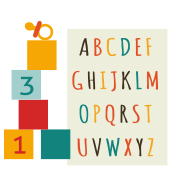 >
The Warkworth Team
This is our team of teachers and staff at Educare Warkworth. Scroll through to find out more about our teaching team.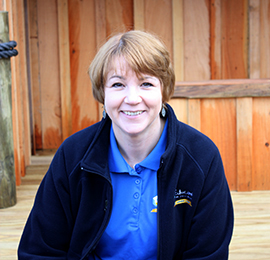 Lisa Corteen
Centre Manager
Hi, my name is Lisa and I have lived in the local community for over ten years. I am originally from England and I qualified in NZ with a Diploma of Teaching in 2012.

I have a number of years teaching experience and I am very passionate about early childhood learning, I love art and encouraging young children to express themselves visually and verbally. I have two boys who both attend Mahurangi College and I am very privileged to be a part of Educare Warkworth.
Cath Heald
Registered Teacher - Assistant Manager
Hi, I'm Cath. My family and I moved over 11 years ago from the UK and love it here.
I have been teaching in early childhood for 8 years and am very passionate and enthusiastic about children's learning. I believe that the younger years are the most important and provide a foundation for children to grow from. I'm very passionate about science and nature and love encouraging children to see things differently.
I have three children at Mahurangi College and one at University doing her Masters. Over the years I have been a cub and scout leader in Warkworth but have just recently stopped. We live on a lifestyle block and have lots of different farm animals which I love.
I'm excited to get to know all of the children and their Whānau at Educare and can't wait to have lots of fun.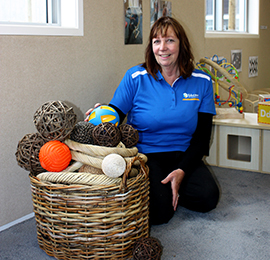 Barbara Bambery
Registered Teacher
Hi my name is Barbara Lois Bambery, I am a Registered Early Childhood Teacher
with a Bachelor Of Early Childhood (Teaching).

I have been working in Early Childhood for many years and enjoy working with this age group. Through noticing, recognising and responding I am able to plan and extend children and implement Te Whariki The Early Childhood Curriculum.

I have one son Jordan who is a qualified builder working in the busy city of Auckland,
where I was also based working in Early Childhood, I now look forward to working
locally. I look forward to getting to know the parents/whanau, children at
Educare Warkworth.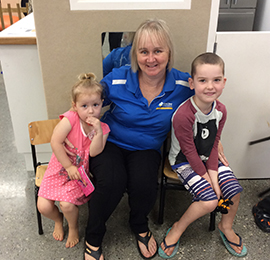 Sandra Pearce
Registered Teacher
Kia ora, my name is Sandra Pearce but most people call me Sandy. I recently moved from Bayswater to Matakana. I'm married and have three adult children.

I practiced as a registered nurse for many years before a career change. In 2011 I graduated from AUT with a Bachelor of Education (ECE). I have been working full-time since mostly with infants and toddlers.

I'm really excited about joining the Warkworth teaching team and getting to know the children and their whanau.
Coral Lester
Registered Teacher
Kia ora my name is Coral, I am a fully registered ECE teacher and have been involved in the ECE field since 1996.
I was born on the North Shore and moved to Taranaki in the late 70's as a young Mum with three small children. I now live in Mangawhai and enjoy the country life. I am an out doorsy person who enjoys soaking up nature, walking my dogs, swimming and a bit of gardening. Opp shopping is also a favourite interest of mine. I firmly believe that tamariki develop thinking and making sense of their world through 'play' and 'hands on learning'. I have a 'can do attitude' with the belief that tamariki are capable and competent learners.
Stacey Siger
Registered Teacher
My name is Stacey and I have recently joined the whānau at Educare.
I was born in Hamilton and moved to Auckland with my family when I was 7. I have lived in many places in Auckland but Papatoetoe will always be my home.
At the beginning of the year I moved to Matakana with my daughter to be with my partner of many years who is a Dairy farmer. I am loving the fresh air, the quietness, the relaxed approach to life but not the flies haha.
I look forward to getting to know you and working alongside you and your whānau to do what is best your tamariki.
Leah Stuart-Douglas
Teacher
Kia Ora, my name is Leah, my son and I recently moved to Warkworth to join my fiancé here – what an amazing little town this is!
I am a qualified literacy tutor and music teacher. Previously living
In South Australia I had a successful 25 year career working for state and national government departments tutoring literacy, numeracy, music and art in Primary and Secondary schools, childcare centres and local libraries. I am an experienced public motivational speaker and am passionate about positive mental health, suicide prevention, behaviour management, and living life well.
I look forward to settling permanently in Warkworth and at Educare, promoting the wairau, mana and kaha of our tamariki and supporting my co-workers in continuing to create a fabulous place of learning and wellbeing.
Lindy Neumann
Nutritionist
I am very excited to be part of the Educare Warkworth team as the nutritionist and part time reliever. Originally from the UK, I have lived in N Z since 1991, moving to Warkworth in 2002 with our four children. I was attracted to the small Warkworth community. I have for many years thought my perfect job would be to cook in an early childhood centre. Being able to cook for, and work with children, is like a dream come true.
Before starting my training as a cook, I worked in an early childhood centre in the UK. While my children were little I provided home-based childcare for friends returning to work. I have owned two food businesses in Warkworth. I am very much looking forward to cooking and caring for your children and hope to also be able to pass on to them my love for cooking.