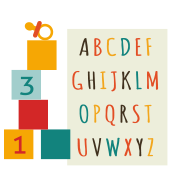 >
The Kapiti Team
This is our team of teachers and staff at Educare Kāpiti. Scroll through to find out more about our teaching team.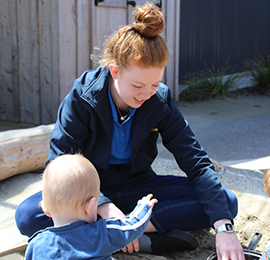 Rebecca Warnock
Acting Centre Manager
Kia ora, my name is Rebecca Warnock, I have spent my life living in Palmerston North and now live in Porirua with my partner James.
I have a Bachelor of Teaching in Early Childhood Education and I am a fully registered teacher. I began studying through NZ Tertiary College and quickly found my place and passion for teaching, becoming a full time teacher in 2012. In my spare time, I love to go on big walks, bake (shortbread is my specialty), read, and get stuck into anything crafty. Developing relationships that foster and support the tamariki's ongoing learning and development is the most special and important part of my job and I feel privileged to be a part of so many children's learning journey.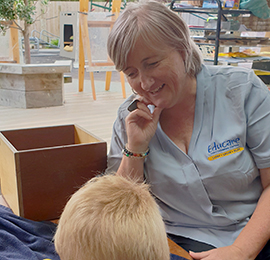 Karen Newton
Area Manager, Acting Centre Manager
Tēnā koe my name is Karen Newton. I am a fully registered ECE teacher and have always been highly passionate about the overall development of each unique tamariki. For parents looking for solutions in dealing with a parenting issue, I am also a qualified Triple P Parenting Programme Provider.
On a personal note, I am a mother of two amazing adult sons, who are enjoying life in the UK, while I am based in the wonderful Wairarapa, where the rest of my family live. Living in the Wairarapa provides me with lots of opportunity to get out into the great outdoors and spend valuable time with my young niece and nephew. I look forward to learning and working alongside the Educare Learning communities.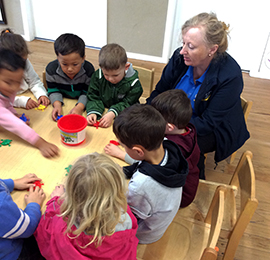 Wendy McGregor
Assistant Manager, Registered Teacher
I trained as a primary teacher when dinosaurs roamed the earth. But then got distracted and spent a long time working as a communicator capturing audio sound bites and putting complex stories into simple language. It wasn't until I had a child of my own and spent time in a preschool, that I realised how exciting the first five years can be and how the ECE curriculum supports and nurtures enquiry, exploration and discovery. I quickly added an early childhood qualification to my CV. I see my role as threefold, to help provide a warm and caring environment for your Tamariki, to help him or her become the best they can be and to share their milestones along the way with you. ECE is fun and that's the way it should be.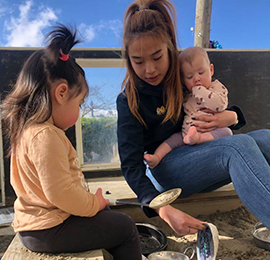 Hebe Zhao
Team Leader, Registered Teacher
Kia ora and Ni Hao (hello), my name is Hebe and I am the team leader in the Kiwi room. I'm a registered teacher, graduating from Victoria University in 2015. I love what I do and have a passion for nurturing children and supporting them to become confident and competent learners. I believe in the power of free play, the importance of learning through play and highly value creating a rich learning environment where children can have fun and are challenged in a safe way.
In my free time I enjoy going to the gym, probably a little too much (sometimes at 4:30 in the morning, call me crazy), walking around the neighbourhood, going shopping and building Lego! I also love coffee, getting tattoos and singing along to songs on full blast while driving. I am very excited to be part of the team.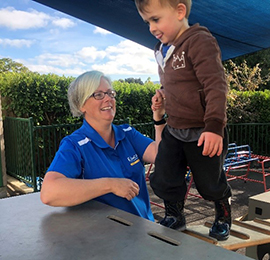 Karen Cooke
Registered Teacher
I have been working in Early Childhood Education since 2007, having both a Diploma and Bachelor in Education.
I live in Paraparaumu with my husband and our two boys.
I am passionate about creating an environment where children are nurtured and respectfully encouraged to learn and develop.
I understand that play is the most important process through which children learn independence, respect for each other, respect for their environment, and a love of learning and I want to be able to support them in achieving this.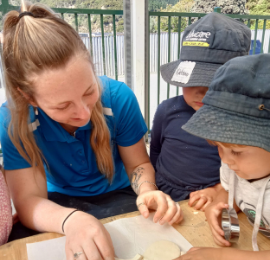 Nicole Beale
Provisionally Registered Teacher
Kia ora! My name is Nicole, but feel free to call me Cole.
I live in Paraparaumu, born and raised in the Kāpiti/Horowhenua area. I completed my Early Childhood Education degree through the Open Polytechnic in July 2020 and have begun my journey towards becoming a fully registered teacher. I would describe myself as a very warm, nurturing and caring teacher who values the importance of building respectful relationships. Tamariki and their whānau are at the heart of what I do. I feel privileged to support and guide your tamariki through their learning journey and look forward to getting to know you all.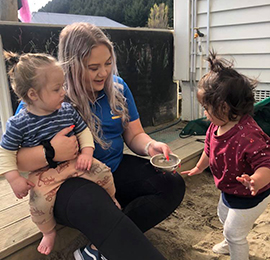 Shannon Birrell
Teacher
Kia Ora, I'm Shannon Birrell. I work in the Kiwi room here at Educare Kāpiti. I've lived in Kapiti for the last 8 years and it's been such an incredible community. I've worked with high needs and special needs children in the past and I'm taking the next step in my career and I'm beyond excited to join the Educare Kapiti team. Child care is something that is very important to me, giving your children all the support and guidance they need to grow will be my top priority. Looking forward to meeting with you all soon!!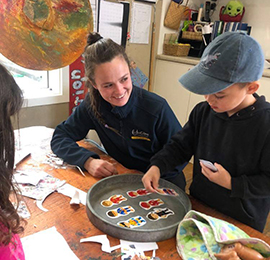 Abigail Taylor
Teacher
Kia Ora my name is Abi. My passion in life is teaching and I feel so lucky to be able to work alongside your tamariki exploring, learning and playing together whilst supporting their growth and transition through their journey here at Educare.
I am new to the kaiako scene, only in my second year of teaching and soon to be studying through open polytech. However, at home we have 5 children of our own so I have lots of energy, patience and know every word to Frozen. On the weekends you can find us on bike rides or walking our puppy Billy. I love being outside and can't wait to spend another summer swimming at the beach. Growing up I spent a large majority of my life playing the cello and am very passionate about music and love to incorporate music into our daily centre environment.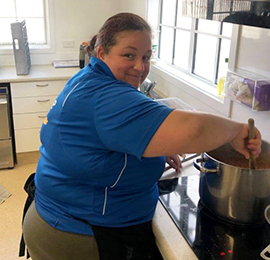 Rebecca Caldwell
Nutritionist
Hello my name is Rebecca Caldwell, I am a qualified Chef and baker and have been in ECE since 2018. I love cooking nutritious food for the children. I have school age girls myself nearly, which keeps me on my toes. My hobbies and passions include baking, gardening, crochet and movies.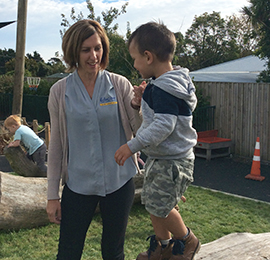 Kaylene Berry
Administrator
Hi, my name is Kaylene and recently joined the Kapiti team as an Administrator working part-time. I have lived on the Kapiti Coast since 2017 with my husband and our two girls and enjoy the lifestyle that the Coast has to offer. I look forward coming into work and working alongside a great bunch of teachers who are all clearly passionate about early childhood education which is evident from the happy smiles and laughter heard from the children when I am in the office.
I am excited to work alongside the teachers and all the families in helping to create a fun, loving, creative, supportive, caring and safe environment. I look forward to meeting you and your little ones and to help you with any enquiries you may have.