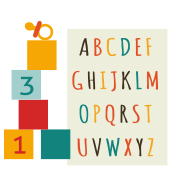 >
The Totara Park Team
This is our team of teachers and staff at Educare Totara Park. Scroll through to find out more about our teaching team.
Rachel Dunn
Centre Manager - Registered Teacher
Tena koutou katoa!
I'm Rachel Dunn and I am the proud and busy mum of three beautiful tamariki! I grew up in Dargaville, and completed my Early Childhood Diploma in Christchurch. My whānau and I have lived in Whangarei for six years, and in Tikipunga for three years, so I am very excited to see Educare Totara Park learning centre benefit our community. Although I am new to the Educare whānau, I have been involved in Early Childhood Education for over ten years, and have held a variety of roles. I am dedicated to our next generation of tamariki, and have recently gained a Bachelor of Education, so that I am better informed to prepared them for the future.I have a passion for Te Ao Maori and implementing tikanga Maori and te reo Maori within my teaching practice.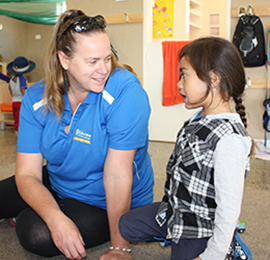 Kim Maera
Registered Teacher
Kia Ora Kautou Katoa,
My journey to becoming a qualified early childhood teacher began with training as a primary teacher in Waikato. After graduating I worked for 17 years in both Kaitaia and Whangarei. I loved being a teacher, learning and working with children, so I decided to have one of my own. With my son being born in 2009 I was fascinated with how amazing our little tamariki are, this led me to quit my senior teachers role and work in early childhood.
While I worked, I gained an early childhood diploma in 2014, and I still get amazed everyday as I observe, play and learn alongside children, our tamariki are miharo!
I look forward to getting to know all the whanau and tamariki at Totara Park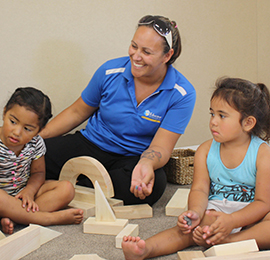 Haley Chapman
Provisionally Registered Teacher
Kia ora koutou
Ko Pouerua te maunga
Ko Owhareiti te roto
Ko Waitangi te awa
Ko Ngatokimatawhaorua te waka
Ko Waitangi toku marae
No Waitangi ahau
Ko Haley Chapman ahau
E noho ana ahau ki Kamo
Ko Jamie taku tane
Ko Jorgiah, ko Locklynd ratou, ko Kelly aku tamariki
I am Haley Chapman and I live in Kamo with my partner Jamie and our three children, Jorgiah, Locklynd and Kelly. We enjoy getting out as a family and going for road trips. I have been in Early Childhood Education for a number of years, my journey started as a cook now I am Provisionally Registered ECE teacher. I am excited to get to know all our new whānau and tamariki here at Totara Park Educare.
Jenna Trass
Registered Teacher
It's not everyday you hear of people finding their life long passion at a young age. For me, working with tamariki has been just that, and something I will always feel at home with.

Being brought up in a family of 7 with my many nieces and nephews has played a big part in pursuing my passion. In January 2015 I graduated with a Bachelor of Teaching (ECE) and am now working towards my full registration.

Working at Totara Park Educare enables me to share my kete of knowledge, fill it with more knowledge and continue to pursue my passion for teaching. I am looking forward to being in partnership with you and your whanau, the other kaiako and the community of Whangarei.
Krystel Scott-Davidson
Registered Teacher
Kia Ora Koutou
Ko Krystel Scott-Davidson toku ingoa
I have been working in Early Childhood education for the past nine years, originally working within the early childhood settings as a way to spend time with my children as they grown and learn. In doing so, I realised that I have a strong passion for the early years and in particular as our role as kaitiaki for the future of our natural world, seen through my practice in teaching, learning and nurturing our tamariki.
I have 3 beautiful tamariki of my own who live with my partner and me on a lifestyle block east of Whangarei. We love to get outdoors and play and learn together while we explore the gems of our countryside, the animals, the beach and the bush.

Kirstie Steevens
Registered Teacher
Kia Ora
Ko Kristie Steevens toku ingoa
I am originally from the bay of islands and have just moved to Whangarei to live with my partner.
I have been teaching in the Early Childhood sector for almost 8 years now and it fills me with great joy seeing the children of the future learning and developing alongside myself and their peers.
I come from a large family of 6 sisters and 1 brother, and so far 5 nieces and 1 nephew. In my spare time I enjoy photography, the outdoors and spending time with my many "honourary nieces and nephews".
I am looking forward to getting to know you all while we grow and learn together.
"Ahakoa he iti he pounamu" "Even though it is small it is a treasure"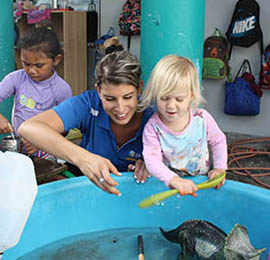 Chelsee Dovey
Provisionally Registered Teacher
Kia ora whanau
I'm Chelsee, and I have lived in Whangarei my whole life, living the beach life on the east coast (Ngunguru).
I have always wanted to be a teacher originally as a primary teacher however; I managed to stumble into early childhood discovering my love and passion in teaching and learning about the world alongside tamariki.
I began my journey in 2011 with Educare, eventually studying and gaining my Bachelor in Early Childhood Education in 2015, now I plan to gain my full registration. I have a strong interest in implementing Te Ao Maori and I would like to strengthen my practice and knowledge, which is why I have joined the amazing team at Totara Park Educare.
I really look forward to getting to know you, your child and whanau on this amazing journey.
Aisha Karena
Training Teacher - Year 1
Kia Ora,

My name is Aisha Karena and I am a mother to a beautiful little girl named Kylah-Rose. I grew up in Whangarei, have lived in Brisbane Australia for 5 Years and have now moved back to Northland. My partner Hobson and I live on a little farm in Towai where we have many animals to keep us busy. I love spending time showing my daughter all the great things the outdoors have to offer us. I love to sing and I just love to have music all around. I am going to be starting my degree in early childhood in July 2016 and im very excited to start this next chapter in my life. I have always been interested in teaching young children, it has always been a big passion of mine. I am so excited to be working with such amazing little children who can teach me just as much.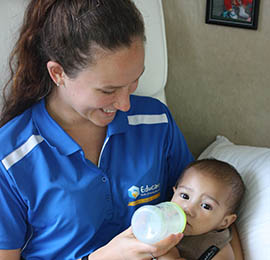 Jess Kneebone
Training Teacher - Year 2
Kia Ora my name is Jess Kneebone, I am 20 years old and live with my partner Kalib in our home in Kamo.

I am a teacher in the under 2's and am currently in my first year of training towards my early childhood degree.
I enjoy working alongside children and love being outside and active, I am excited to meet you and to get to know your child.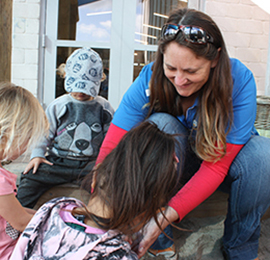 Tracy Palmer
Teacher
I live in Whau Valley with my partner, my two children, 2 dogs, 2 cats, skinks and spider! I also have a step-daughter in Whangarei.
I grew up, and have spent most of my life here. I can't think of a better place to live and bring up children.
I have always had a passion for working with children and left high school to attend Nanny Academy; 22 years on I still have the same passion for working with children. I graduated with my Early Childcare Teaching Diploma in 2002 and plan on working toward getting my teacher registration.
I have passions in art & craft, nature and being ecologically aware. I can't wait to share these passions with the kaiako and tamariki at Totara Park. After being a relief teacher here, it's wonderful to finally call Totara Park home.
Paul Maera
Nutritionist
Kia Ora, I'm Paul and I'm the nutritionist here in the Educare Totara Park kitchen.
Before joining Educare, I worked as an agricultural contractor doing projects like building rock walls, and earth works excavation. I also have a love for cooking for people.
I'm a Whangarei local, and in my spare time I love working with wood, watching my son practice Taekwondo and camping with my family around beautiful Northland.