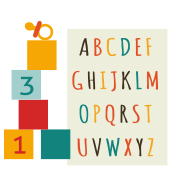 >
The Totara Park Team
This is our team of teachers and staff at Educare Totara Park. Scroll through to find out more about our teaching team.
Rachel Dunn
Centre Manager
Tena koutou katoa!
I'm Rachel Dunn and I am the proud and busy mum of three beautiful tamariki! I grew up in Dargaville, and completed my Early Childhood Diploma in Christchurch. My whānau and I have lived in Whangarei for six years, and in Tikipunga for three years, so I am very excited to see our Educare Totara Park centre benefit our community. Although I am new to the Educare whānau, I have been involved in Early Childhood Education for over ten years, and have held a variety of roles. I am dedicated to our next generation of tamariki, and have recently gained a Bachelor of Education, so that I am better informed to prepare them for the future. I have a passion for Te Ao Maori and implementing tikanga Maori and te reo Maori within my teaching practice.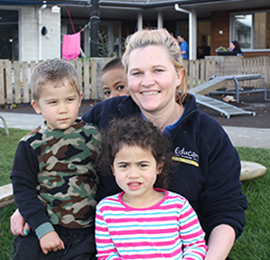 Rebecca Dickens
Registered Teacher
My name is Rebecca Dickens, I was born and mostly bred in Whangarei and moved to Auckland to pursue my studies.
I graduated with a Diploma of Teaching from Te Tauri Puna Aoteroa, a year later returning to do a Bachelor of Teaching in Early Childhood and have since obtained my full registration.
I have been working in early childhood for several years and have a passion to watch children grow and develop. I believe children are confident and competent and have the freedom to pursue life to the fullest in whatever they choose to do. I am here to guide them through this journey.
In my spare time, I enjoy dancing, movies and being an amazing aunty to my two nephews and niece. I have a passion for travelling to different parts of the world.
I am looking forward to meeting you all.
Krystel Scott-Davidson
Registered Teacher
Kia Ora Koutou
Ko Krystel Scott-Davidson toku ingoa.
I have been working in Early Childhood education for the past nine years, originally working within the early childhood settings as a way to spend time with my children as they grown and learn. In doing so, I realised that I have a strong passion for the early years and in particular as our role as kaitiaki for the future of our natural world, seen through my practice in teaching, learning and nurturing our tamariki.
I have 3 beautiful tamariki of my own who live with my partner and I on a lifestyle block east of Whangarei. We love to get outdoors and play and learn together while we explore the gems of our countryside, the animals, the beach and the bush.

Drinagh Forrester
Registered Teacher
Kia Ora, my name is Drinagh, I am very excited to have the opportunity to work with your child. I have been working as an early childhood teacher for 16 years.
I recently moved to Whangarei with my husband and two daughters Milla and Evalee, and feel privileged to live in such beautiful part of New Zealand. We love Whangarei and what it has to offer. Whangarei is a very special place and we love being part of it.
I value the child as an educator. I feel that they bring their own personal knowledge to their play, that they have previously gained and will extend from.
I have a passion for art and incorporate this into the learning programme wherever I can. I enjoy providing activities and experiences which are both challenging and exciting and that grasp the child's interest.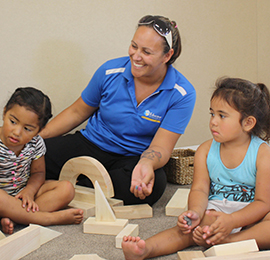 Haley Chapman
Provisionally Registered Teacher
Kia ora koutou
Ko Pouerua te maunga
Ko Owhareiti te roto
Ko Waitangi te awa
Ko Ngatokimatawhaorua te waka
Ko Waitangi toku marae
No Waitangi ahau
Ko Haley Chapman ahau
E noho ana ahau ki Kamo
Ko Jamie taku tane
Ko Jorgiah, ko Locklynd ratou, ko Kelly aku tamariki
I am Haley Chapman and I live in Kamo with my partner Jamie and our three children, Jorgiah, Locklynd and Kelly. We enjoy getting out as a family and going for road trips. I have been in Early Childhood Education for a number of years, my journey started as a cook now I am Provisionally Registered ECE teacher. I am excited to get to know all our new whānau and tamariki here at Totara Park Educare.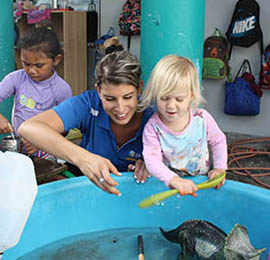 Chelsee Dovey
Provisionally Registered Teacher
Kia ora whānau
I'm Chelsee, and I have lived in Whangarei my whole life, living the beach life on the east coast (Ngunguru).
I have always wanted to be a teacher originally as a primary teacher however; I managed to stumble into early childhood discovering my love and passion in teaching and learning about the world alongside tamariki.
I began my journey in 2011 with Educare, eventually studying and gaining my Bachelor in Early Childhood Education in 2015, now I plan to gain my full registration. I have a strong interest in implementing Te Ao Maori and I would like to strengthen my practice and knowledge, which is why I have joined the amazing team at Totara Park Educare.
I really look forward to getting to know you, your child and whānau on this amazing journey.
Lucy Gardner-Lee
Provisionally Registered Teacher
My name is Lucy, my whānau and I are originally from Auckland where I spent most of my childhood before moving north to Whangarei in 2004. We now reside on a lifestyle property west of Whangarei, where we enjoy everything outdoors, from fishing and scuba diving to hiking and horse riding.
I started working for Educare in Hikurangi in 2014, and have since graduated with a Bachelor of Education (ECE). Since becoming a teacher, I have been privileged to work in diverse early learning settings, and have a strong passion for working with children and whānau to create a safe and challenging environment that provides opportunities to explore kaitiakitanga, learn te Ao Māori and take risks as they grow as competent and confident learners.
Aisha Karena
Training Teacher - Year 2
Kia Ora,
My name is Aisha, and I am a mother to a beautiful little girl, Kylah-Rose. I grew up in Whangarei, have lived in Brisbane for 5 years and have now moved back to Northland. My partner Hobson and I live on a little farm in Towai where we have many animals to keep us busy. I love spending time showing my daughter all the great things the outdoors have to offer us. I love to sing and love to have music around me. I have always been interested in teaching young children, it has always been a big passion of mine. I am so excited to be working with such amazing little children who can teach me just as much.
Aisha is currently on maternity leave.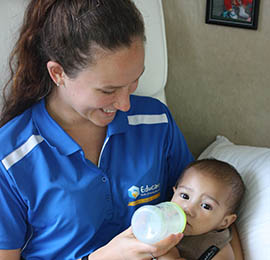 Jess Kneebone
Training Teacher - Year 3
Kia Ora my name is Jess Kneebone, I am 20 years old and live with my partner Kalib in our home in Kamo.

I am a teacher in the under 2's and am currently in my first year of training towards my early childhood degree.
I enjoy working alongside children and love being outside and active, I am excited to meet you and to get to know your child.
Vicky Brandso
Training Teacher - Year 2
Kia ora Koutou.
Ko Vicky Brandso toku ingoa,
My husband Josh and I are the proud parents of our beautiful little girl Katie. She is the inspiration for me to become an early childhood teacher and I am now currently in my second year of training.
I love being active and spending time with my whānau, exploring together what our amazing northland backyard has to offer. I am excited to start the next chapter of my early childhood journey here at Totara Park Educare getting to know you all and learning alongside the tamariki and Kaiako.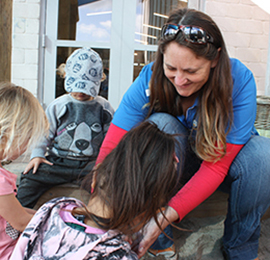 Tracy Palmer
Teacher
I live in Whau Valley with my partner, my two children, 2 dogs, 2 cats, skinks and spider! I also have a step-daughter in Whangarei.
I grew up, and have spent most of my life here. I can't think of a better place to live and bring up children.
I have always had a passion for working with children and left high school to attend Nanny Academy; 22 years on I still have the same passion for working with children. I graduated with my Early Childcare Teaching Diploma in 2002 and plan on working toward getting my teacher registration.
I have passions in art & craft, nature and being ecologically aware. I can't wait to share these passions with the kaiako and tamariki at Totara Park. After being a relief teacher here, it's wonderful to finally call Totara Park home.
Everlyn Laybourn
Nutritionist
My name is Evelyn and I am the cook for Totara Park Educare.
I am Whangarei born and bred and have lived in the Far North, Waikato and France as well.
My family consists of my husband Grant, our 4 grown children and 7 grandchildren.
We all have strong commitments to our community, family and our tamariki.
I have had many years of cooking for larger groups of all ages.
Cooking is "my time" so my job is easy to enjoy.
My belief is if you feed your whānau well with love and good nutrition they are already off to a good start to their day. So my commitment is to follow this through with your children here, and while they need a good balanced tasty diet I am strong on good treats too!