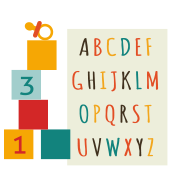 >
The Totara Park Team
This is our team of teachers and staff at Educare Totara Park. Scroll through to find out more about our teaching team.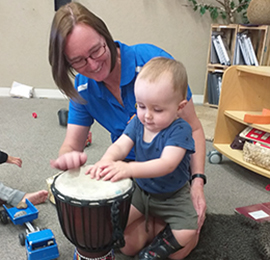 Angela Whittam
Acting Centre Manager
Kia ora, I have been involved in early childhood since 2008.  I graduated from the University of Auckland with a Bachelor in Teaching specialising in Early Childhood, and gained my full registration in 2018.
I grew up in England and emigrated to NZ in 2007 with my husband Darren and children Madeline and Ellinor. 
I began working outside and gardening which led to my love of the outdoors.  I enjoy spending time at the beach with my family, gardening, watching my daughters play sports and walking my dog.
I am an advocate of messy and wet play as tamariki learn through different experiences gained whilst using their senses.
I look forward to getting to know you and spending time with your tamariki to watch them learn and grow.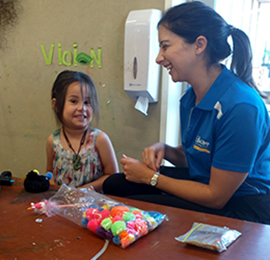 Kirsty Le Couter
Acting Team Leader, Registered Teacher
Kia Ora, I'm excited to be teaching at Educare Totara Park Educare working with the over twos.
I've been teaching since 2012 when I graduated with a diploma in teaching at Waikato University.
I spent 7 years teaching full time in Hamilton and moved up to Whangarei in 2019.
I have a passion for incorporating creativity and dramatic play into my teaching, and working alongside 4 years olds to prepare them for their transition to school.
I enjoy keeping fit, playing piano, hiking and spending time with friends and family.
I look forward to getting to know all the kaiako and whānau at Educare Totara Park.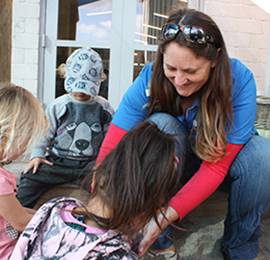 Tracy Palmer
Acting Team Leader, Registered Teacher
I live in Whau Valley with my partner, my two children, 2 dogs, 2 cats, skinks and spider! I also have a step-daughter in Whangarei.
I grew up, and have spent most of my life here. I can't think of a better place to live and bring up children.
I have always had a passion for working with children and left high school to attend Nanny Academy; 22 years on I still have the same passion for working with children. I graduated with my Early Childcare Teaching Diploma in 2002 and plan on working toward getting my teacher registration.
I have passions in art & craft, nature and being ecologically aware. I can't wait to share these passions with the kaiako and tamariki at Totara Park. After being a relief teacher here, it's wonderful to finally call Totara Park home.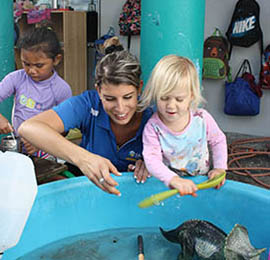 Chelsee Dovey
Registered Teacher
Kia ora whānau
I'm Chelsee, and I have lived in Whangarei my whole life, living the beach life on the east coast (Ngunguru).
I have always wanted to be a teacher originally as a primary teacher however; I managed to stumble into early childhood discovering my love and passion in teaching and learning about the world alongside tamariki.
I began my journey in 2011 with Educare, I got my Bachelor in Early Childhood Education in 2015, now I plan to gain my full registration. I have a strong interest in implementing Te Ao Maori and I would like to strengthen my practice and knowledge, which is why I have joined the amazing team at Totara Park Educare.
I really look forward to getting to know you, your child and whānau on this amazing journey.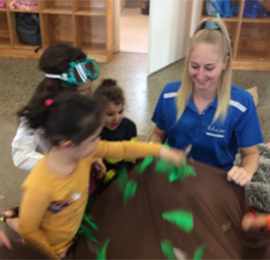 Emily Brunker
Registered Teacher
Kia ora, I'm Emily and have lived in Whangarei all my life. My childhood was spent travelling around Whangarei, surfing and camping with my family. We also were very fortunate to travel overseas including Australia and my favourite, Bali. These holidays taught me a lot about myself and the world we live in.
Outside of work, I love being in the Far North. My Mum's family were from there, and I feel strong connections to the land, air and sea there. Relationships are a huge part of my teaching philosophy and I am passionate about working with children to help them learn about themselves, others and the world around them. I love singing, dancing, reading stories and building things outdoors. I look forward to building relationships with you all at Totara Park.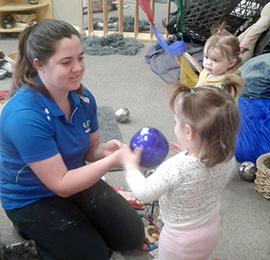 Anna Hall
Registered Teacher
Kia Ora, I'm Anna. I live with my two girls Dawn and Alexis, who you will see here in the centre. We live here in Tikipunga and I grew up in Onerahi with my family. As a child I spent a lot of time outside riding bikes and exploring with my friends. We would often go fishing and spend time gardening. Our family holidays were often spent visiting family in New Plymouth.
I started my teaching journey with the completion of my Bachelor of Education specialising in Primary Teaching. I then took a year's break to have Dawn and spend time being a mum. Since returning from maternity leave, I did a fixed term role at Educare Norfolk Street working with 0-2 yer olds which quickly became my passion.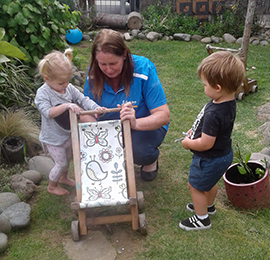 Kerri Thomas
Registered Teacher
Kia Ora! I have been teaching since graduating in 1988. I have 3 boys who have left home and are embarking on their own adventures, but return home regularly when they are hungry! Apart from teaching, my passion in life is animals. I feed and care for 48 animals daily and the majority of these have been regular visitors to the different centres where I teach! Animals can teach children to be caring, kind, gentle, responsible, and to gain an understanding about empathy. My teaching philosophy is to know your child's interests and to extend them in every way possible. I love woodwork and spend most of my weekends creating educational equipment for tamariki. I am so excited to be walking alongside your child as they embark on their amazing learning journey.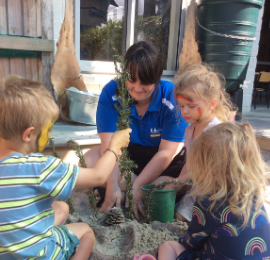 Grace Farrant
Registered Teacher
Kia ora whānau, ko Grace tōku ingoa. I am so excited to start my early childhood journey with Totara Park and your amazing tamariki. I recently moved to Dargaville with my daughter Sunny and partner Christian. However, I am originally from Auckland where I have been working as a primary school teacher. On the weekends I love baking, sewing and spending time with my whānau. I also love music and dramatic play and dressing up! Teaching and learning is a fun and fulfilling journey of self-discovery and exploration of the world we live in. I love seeing what each tamariki brings with them each day in their kete full of knowledge, experiences, culture and personality. I feel very honoured to have the opportunity to explore, learn and succeed alongside your tamariki.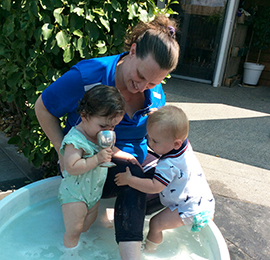 Karmen Reid
Teacher in Training
Tena koutou katoa!
I have lived in Whangarei for most of my life, and have two handsome boys
Conner and Lincoln. Becoming a mum and babysitting for many years has naturally inspired me to choose this career path and I have just begun my journey with Open Polytechnic to gain a Bachelor of Early Childhood Education. I am passionate about providing messy play and art experiences for tamariki, and enjoy games that get the imagination going. One of my goals is to strengthen my use of Te reo Māori, by speaking it more when interacting with tamariki.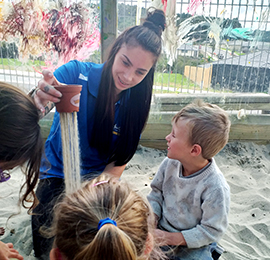 Jamie Patauawa
Teacher
Kia Ora whanau, my name is Jamie Patuawa.
I am very excited to be a part of the Educare Totara Park team helping your tamariki develop the skills and knowledge they will need for school.
I am a mother of two beautiful girls, Lilly-Rose and Millia with my husband Nathan, and we love to get out and about as a family and explore new places like parks and beaches etc. So if you see us around please don't be shy come say hello I would love to get to know the whānau as well, after all, you are who the tamariki look up too.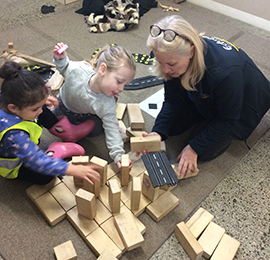 Christein Oberholster
Teacher
I am the proud mother of Lara and Daniel and the grandmother of Eli.
I was born in South Africa and immigrated to NZ in 1994. I have been teaching children all my adult life it is my passion, and I will graduate with a Diploma in Teaching ECE this year.
My other passion is ensemble, acapella singing. I am a vocal coach and a musical director.
As an educator of young children, I believe that learning should be play based, and teachable moments will present themselves when working alongside the child. Acknowledging diversity and the dual heritage of Aotearoa, New Zealand and working to uphold Te Tiriti o Waitangi provide me with a strong foundation for ongoing partnership with kaiako, parents, caregivers and whānau.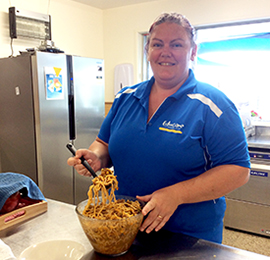 Andrea McKenzie
Nutritionist
Kia ora koutou
I'm excited to be a part of Totara Park Educare.
I am Andrea Mackenzie I live in Tikipunga with my partner Steve and two boys James and Ryan.
Before taking on the nutritionist role I was reliving for Educare cooking and teaching for the last year.
I have lived in my whole life on the east coast (Ngunguru) on a small farm. I always have wanted to be a chef. I study my first year at North Tec then moved to Wellington to finish my diploma in Cookery and Culinary Arts.
I think it is important to teach our tamariki about food, healthy eating and where our food comes from.
I look forward to getting to know you, your child and whānau.
Stephanie Wood
Administrator
Hi my name is Stephanie and I am the administrator at Totara Park.
I live in Maungatapere with my husband and young son.
Having my own son attending Totara Park I see things from both an administrative point of view as well as a parents point of view and am here to help and support parents with any queries and generally help in anyway I can to make things easier.
I am very excited to be part of the Educare Team and looking forward to meeting you and your families and assisting in making things as easy for you as I can.
Stephanie is currently on maternity leave.