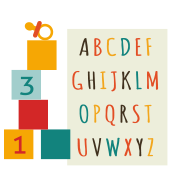 >
The Adventure Team
This is our team of teachers and staff at Educare Adventure. Scroll through to find out more about our teaching team.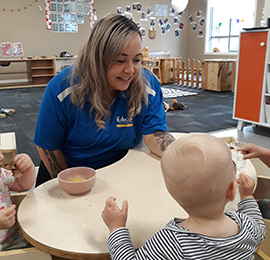 Aroha Te Rangi
Centre Manager
Tena Koutou Katoa, I'm Aroha, I have spent most of my life in Porirua and currently live in Whitby with my husband and our 3 teenagers. I have a bachelor of Teaching (ECE) and have been working in the education sector for several years now.
My teaching practice is underpinned by attachment theory, neuroscience and the RIE philosophy, which is based on respect in every sense of the word. I am passionate about my work with infants and toddlers, creating a calm and welcoming environment for them to build confidence and further develop their intrinsic motivation. I look forward to building a relationship with you and your family here at Educare Adventure.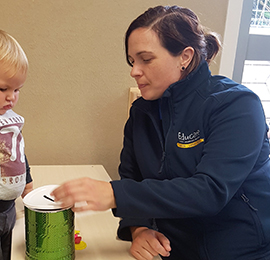 Amanda Young
Team Leader, Registered Teacher
Ko Amanda Tōku ingoa
Hi my names Amanda
No Te Whanganui‐ā‐Tara ahau
I am from Wellington
Ko Wayne Tōku Mātua
My dad is Wayne
Ko Christine tōku whaea
My mum is Christine
Kia ora my names Amanda,
I am a passionate Early Childhood kaiako.
I have had 12 years experience, have completed my Bachelor of Education at Victoria University and my New Zealand Teacher Registration.
I love a good Adventure Mountain biking, hiking, yachting and race Enduro mountain biking.
I believe in intentional teaching and purposeful learning in early childhood.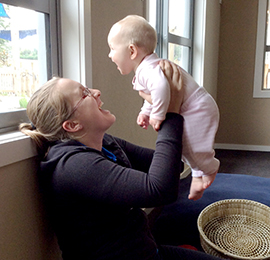 Gemma Smith
Registered Teacher
Hi my name is Gemma, I am a qualified and registered Early Childhood Teacher with over 10 years' experience.

I have a strong passion for building relationships with the children and their families by providing them a nurturing and caring environment. I look forward to getting to know you all, as we embark on this learning journey together.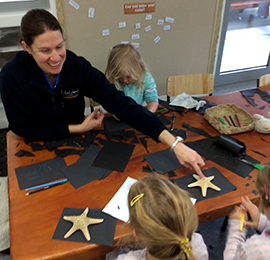 Kirsten Sharp
Registered Teacher
Kia Ora, my name is Kirsten and I am a qualified Early Childhood Teacher. I live locally in Whitby with my partner and our young daughter. I returned to New Zealand last year after spending most of my 20's and 30's travelling and working overseas. I have worked in a wide variety of educational settings in Japan, Thailand, England, Ireland and most recently Australia. I am excited to be part of the Educare Adventure team, and look forward to getting to know the tamariki and their whanau.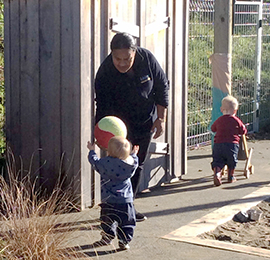 Sisilia Lo'amanu
Registered Teacher
Kia Ora, I'm delighted to be part of the Educare Adventure team. I'm from Tonga, but now live in Porirua.
I am a fully registered teacher with a Bachelor of Education in Teaching Early years.
I am passionate about working with children and strive for quality care and education for our tamariki. I'm looking forward to building strong relationships with the children and their families so they feel comfortable and safe in their environment.
I am a firm believer in respecting children as competent, confident and knowledgeable individuals and value creating peaceful, nurturing and a supportive learning environment that empower our children to develop physically, cognitively, emotionally, socially and spiritually.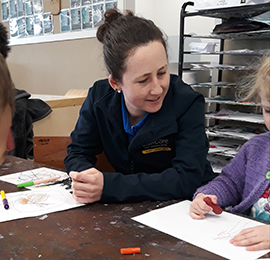 Julie Hill
Registered Teacher
Hi, my name is Julie, I am a qualified and fully registered early childhood teacher. I have a lot of experience in working with toddlers and am looking forward to working with older children and expanding my field of knowledge.
I live locally in Whitby with my husband and daughter Amelia. I have a passion for young children and so it has been amazing to watch Amelia learn and grow so far. I am now looking forward to getting to know all the wonderful tamariki and their whānau at Adventure Educare.
Fetu Ah Chan
Registered Teacher
Talofa, I'm Fetu and I am very excited to join Educare Adventure. I am a provisionally qualified early childhood teacher. After I graduated, I spent the remainder of the year working in youth programmes within the Porirua Community. I have previously worked in ECE services in Porirua, Wellington and Lower Hutt. I believe that a strong partnership with parents and Whānau is very important to improving children's learning opportunities and therefore, I'm looking forward to getting to know all the tamariki and their Whānau here.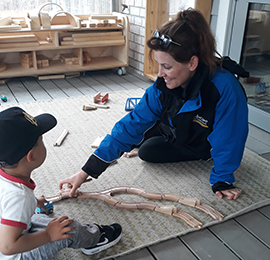 Vivien Geraghty
Registered Teacher
My name is Vivien. I have been teaching early childhood for 8 years now. I earned my degree with Victoria University and have an interest in music and movement with Children. I have two Children of my own, Josh and Lucas. I work part time to balance my family needs and my personal interests. I love to dance (Latin and Ballroom) although no longer compete. I enjoy sailing and am looking at trying rum races in 2020, as well as continuing the hunt for pirates and mermaids in the Wellington Harbour. Vivien is currently on maternity leave.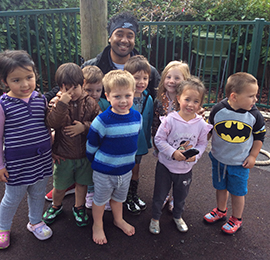 Ken Ah-Honi
Registered Teacher
Mālo ni! My name is Ken Ah-honi, I am a proud Tokelauan and Samoan, born and raised in Porirua. I come from a large family of 9 siblings including myself and they are a very important part of my life. I have many nieces and nephews and I have happily contributed to their upbringing. They are the reason I chose to pursue a career in Early childhood education. Who wouldn't want a job where you are given the opportunity to help shape and build the foundation of our children's education, while having a blast learning through play. I feel very privileged to be working with such an amazing team here at Educare and I look forward to building great relationships with all the children and their whānau.
Fakafetai lahi lele!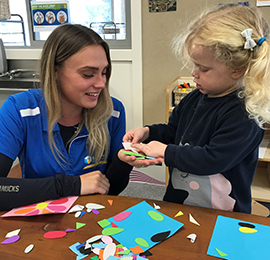 Sarah Buttar
Registered Teacher
Kia Ora!
My name is Sarah Buttar and I am so excited to be joining your Educare Adventure whānau. I have a bachelors in ECE, I am fully qualified and registered, and have been teaching for over 6 years now.
I have a passion for building strong relationships with tamariki, as I believe this is the best way to teach and understand their needs. I am also passionate about building strong bonds between myself and the whānau.
I am so looking forward to getting to know everybody at this centre and begin my journey with you all!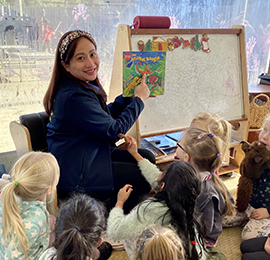 Connie Gamalinda
Registered Teacher
Hi, I'm Connie, Filipino by ethnicity but a proud New Zealander. My teaching background in the Philippines started with being an ESL (English as a Second Language) instructor for both primary and tertiary level students. In 2013 I decided to study for my Bachelor of Teaching in Early Childhood Education and gained my qualification in 2016.
Being responsible in facilitating children's learning and development is important to me and I am a strong believer of intentional pedagogy as it is only through providing appropriate assistance that children can move forward in their learning. I enjoy creating fun and meaningful learning experiences with the children and I am confident that through these, beautiful bonds will be established. I look forward to getting to know the children and whānau.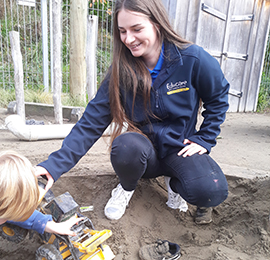 Danielle Edser
Provisionally Registered Teacher
Hi my name is Danielle. I have recently completed my Degree in Early Childhood Education and I am now a Provisionally Registered Teacher. I love incorporating messy play and art in my teaching and I have a passion working along side all ages to create new experiences. I am excited to be part of the Adventure Team and I look forward to meeting you all.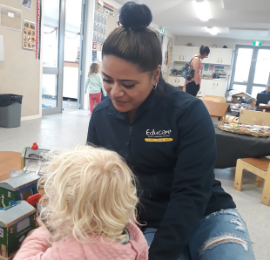 Cecilia Aitogi
Teacher in Training
Talofa Lava Educare Adventure, o lo'u igoa o Cecilia Aitogi, I have just finished my teacher training and received my degree in Early Childhood Education. I began relieving in 2012, which lead me to study. I was born and raised in Porirua and I come from a family of 6. In my spare time, I love to hangout with family and friends and love playing sports, especially volleyball.
I believer our Tamariki are our future and that building relationships with the tamariki and their whanau is important, because they are their first teachers. Being culturally responsive and inclusive are my key components to my teaching as well as nurturing and fostering the needs to the tamariki. I am looking forward to being a part of the Adventure Family. Faafetai ma ia manuia.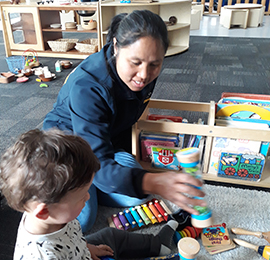 Tial Din Thang
Teacher
Kia Ora, Mingalabar. My name is Tial and I am a mother of three children (two boys and one girl). I currently live in Porirua and arrived in New Zealand 13 years as a refugee from Myanmer. When I was in Myenmar I was a qualified teacher at a local middle school for 10 years. I have also worked within ECE centres within New Zealand. I have always been passionate about teaching. I am very happy to be working with all the children at Educare Adventure. I look forward to meeting and getting to know the know the team and all the Whanau.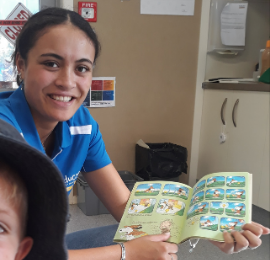 Baliee Aliva
Teacher
Kia Ora Koutou Katoa,
Ko Bailee Aliva Tōku Ingoa
Ko Selina Tōku Whaea
Ko Charles Tōku Mātua
Ko Noah Tōku Tungāne
Ko Tararua Tōku Maunga
Ko Waikawa Tōku Awa
Ko Tainui Tōku Waka
Ko Ngāti Wehi wehi Tōku Marae
Ko Ngāti Raukawa Ki Te Tonga Tōku Iwi
No paraparaumu Ahau.
Kia Ora my name is Bailee Aliva, I was born locally in Kenepuru and raised in the sunny Kāpiti Coast. My goal is to become a qualified early childhood teacher. I enjoy being active, playing sports like athletics, touch and netball. I am excited for my journey here and passionate to share my knowledge of Te Reo Māori and culture within the Centre. While also being a loving, caring Kaiako for Tamariki, Whanau and other Kaiako here at Educare Adventure.
Celia Wethey
Nutritionist
Kia Ora, my name is Celia and I currently live in Tawa. I am a qualified nutritionist and have several years' experience working in different foodservice settings – right from hospital kitchens to cafes and restaurants. Food has always been a big passion of mine, and in my spare time I love to be able to create recipes which are tasty and nutritious. Eating habits are established at a young age, and I love working with children and being able to help them start off a healthy relationship with food.
I am excited to be a part of the team, and look forward to helping the children of the Educare Adventure community learn more about food, and ensure that they receive the nutrients needed to grow and develop.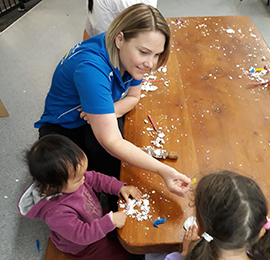 Wendy McLoughlin
Administration
Hi, my name is Wendy and I live locally with my lovely family, which includes 2 lively girls, who keep my husband and I very busy. Since becoming a mother myself, I wanted to tie my previous administration skills in with my love of being around children.
I am excited to work with all the families in helping to create a loving, supportive and safe environment for the children.
I look forward to meeting you and your little ones and helping you with any enquiries and generally making your life easier where I can.