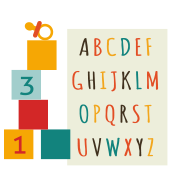 >
The Albert Street Team
This is our team of teachers and staff at Educare Albert Street. Scroll through to find out more about our teaching team.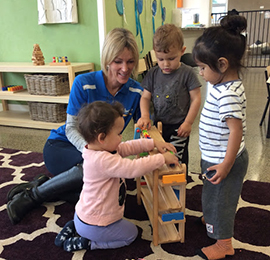 Jo Brown
Centre Manager
Kia ora my name is Jo. I am the Centre Manager at Educare Albert Street. I have been a teacher for nearly 20 years and have worked in all areas of ECE from home based to University lecturing. I have a Masters of Education with a strong emphasis on kaupapa philosophy and Tikanga Maori. I live locally in Pukekohe with my husband and teenage daughter. We have a passion for sports and the gym which is quite often where we spend our time. We are also car enthusiasts particularly American muscle cars, and also enjoy being out and about in them. My passion is creating a natural and sustainable, yet safe and nurturing environment for tamariki that is a home away from home and being a mentor for my team to strive to be the best teachers for the tamariki in our care.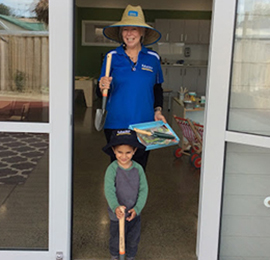 Gwyneth Jones
Registered Teacher, Head Teacher Over 2s
Kia ora, the values I hold dear to me are relationships with whānau and teaching, which go hand in hand. I keep myself up to date with current educational trends to ensure my teaching practice is relevant to the needs of children today.
I have a degree in ECE which I gained through MIT.
I was born in Napier, and have a large extended family and live in rural Pokeno with my son. I love animals, and have chickens, two cats, fish and a cockatiel, and a guinea fowl. My hobbies are gardening, hiking, creative art, and vintage cars. I get great joy from observing a child's happiness in the classroom, learning to support their special qualities and with gentle guidance, contribute to their day by providing them with an exciting, safe environment enabling them to learn, laugh and play.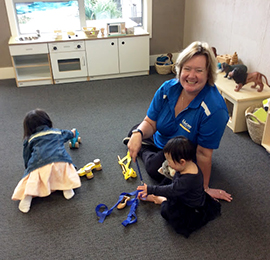 Annette Iqbal
Registered Teacher
My name is Annette Iqbal. I am new to early childhood. I am a trained primary school teacher with 28 years experience. I am a mother of two, Katie who is training to be an ECE teacher and Ben who is at Pukekohe High School. I also have a step son, Mitchell. My husband Vaughan is a busy man who works at the Glenbrook Steel Mill, has several small businesses and is an officer in the Pukekohe Fire Brigade. In my spare time I enjoy cooking and spending time with my family who all live locally. I love children and look forward to meeting, teaching and watching your child develop and grow.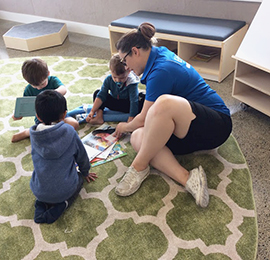 Kerry-Anne Greaves
Teacher in Training
Kia Ora tatou, my name is Kerry-Anne. I started out my ECE career in Brisbane in 2013, where I lived with my partner and two daughters. I did my certificate in Early Childhood Education and Care while I was there.
In my spare time I enjoy socialising with my extended whānau, exploring out and about with my children and shopping.
I am currently in my first year of study toward my Bachelor of Teaching in ECE, as I want to be able to be the best teacher I can be for our tamariki.
One aspect I love about my job is, when children persevere with a challenge and the moment they figure it out their faces beam with pride and a sense of achievement.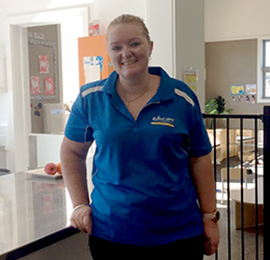 Olivia Bailey
Nutritionist
Kia ora my name is Olivia. I'm super excited to join the team here at Albert St.
As a nutritionist/chef/ mum I believe as children grow and learn they need vitamins and minerals from food that is healthy and nutritional. This supports them throughout their day to remain focused, settled and engaged.
It's an important part of my job to develop healthy eating habits from a young age. So sharing what we know is a part of the importance of healthy eating. I can play my part in this with my knowledge in food nutrition, food preparation, meal planning, dietary and cultural requirements, food handling and preparation. I look forward to the new challenges of my new role here.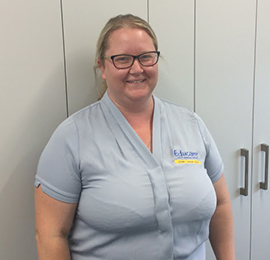 Sarah McLean
Administrator
Kia Ora, I'm Sarah the centre administrator at Educare Albert Street. Working in early childhood has always been a passion of mine. I live in Pukekawa with my husband to two beautiful children. I enjoy spending time with my family and friends, going to the beach and on adventures.