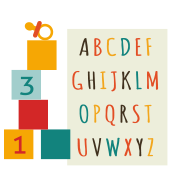 >
The Kensington Park Team
This is our team of teachers and staff at Educare Kensington Park. Scroll through to find out more about our teaching team.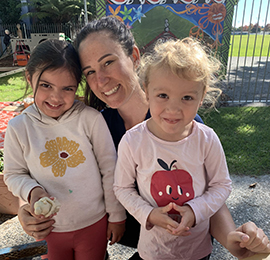 Jess Kneebone 
Centre Manager
Kia Ora my name is Jess Kneebone, I have lived in Northland since I was young moving here from Waihi beach, I am so grateful for the town we live in. I am passionate about physical activity and enjoy being active and spending time with my friends on the weekend.
I am currently a kaiako in the Tuakana whānau and completed my early childhood degree in 2018 through the Open Polytechnic. I look forward to meeting you and your tamariki and supporting you to build a sense of belonging in our ataahua centre.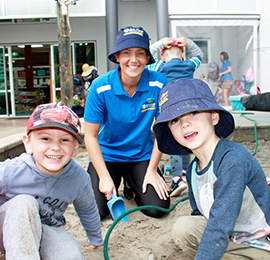 Heidi Hammann
Registered Teacher
Kia ora, after moving from Queensland Australia to beautiful Aotearoa from an early age I spent my childhood growing up in the small Northern township of Kaeo. I graduated with a Bachelor of Teaching with the Open Polytechnic of New Zealand in 2012 before moving to Perth, where I lived for 4 years with my partner. After missing our whānau and deciding that NZ was where we belonged, we moved back in early 2017.
I spend a lot of my spare time outdoors and love hiking the trails through the rich New Zealand Ngahere.
It wasn't until I started working in childcare that I discovered my love and passion for working with tamariki. Each day I am fascinated by what they bring with them, whether it be a new skill, a new thought/idea or a story to share. Heidi is currently on maternity leave.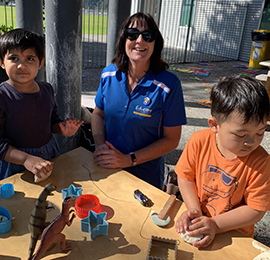 Anna Patu
Registered Teacher
Kia ora koutou, I live in Kamo with my husband and two of our children. As a family we love to spend time at our family bach, fishing and relaxing and I also try to keep fit playing hockey in the weekends.
I have recently returned to Kensington Park and feel like I've come home again.  The children, teachers and whānau have been so welcoming and I receive a great sense of whanaungatanga coming into the centre each Tuesday.
I love seeing the children grow and become confident within themselves.  What fun we have as we play, laugh and learn alongside each other.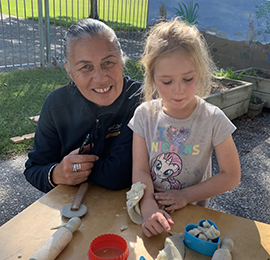 Lissa Davies
Registered Teacher
Nga mihi mahana kia koutou
Ko whaea Lissa toku ingoa
Ko Ngati Kahu o Torongare, Ngati Hau me Ngati Rehua ki Tuparehuia nga Hapu
Ko Ngapuhi me Ngatiwai nga Iwi
I currently live on my Tupuna whenua ki Ngararatunua. I am a mother of four adult tamariki and seven mokopuna.
I am a registered ECE teacher and I have been working in the field of education in a variety of roles for many years. My passion has always been supporting our tamariki during their first five years, these early years lay the foundation for future learning.
I value our dual heritage. Use of Te Reo Maori plays an important part in this, using Te Reo Maori as much as possible in daily interactions with tamariki. I also believe in the concept of 'Mana Ahua Ake' (ones uniqueness) that every tamaiti (child) is a unique being!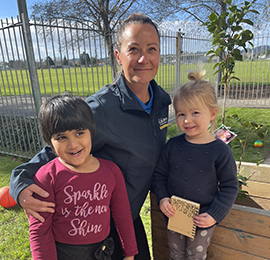 Teresa Borman
Registered Teacher
Kiaora whānau, i'd like to take this opportunity to introduce myself. My name is Teresa, but all my friends and family call me Cheese. I enjoy being Mum to my two teen children, Kaitlyn and Kurtis. In my spare time you may see me climbing mountains or relaxing at the beach. I am a passionate educator who puts the wellbeing of our tamariki at the heart of my teaching practice. The last five years I have been teaching locally and am excited to join the amazing team at Educare Kensington Park. Please feel free to approach me to say hi and introduce yourselves.
"They may forget what you said but they will not forget how you made them feel" - Carl Buechner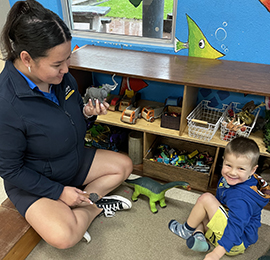 Charisma Greenwood
Teacher
Kia Ora, I'm Charisma. I started as a reliever and fell in love with the centre and the team. I have slowly started to get to know the parents and build relationships through kanohi ki te kanohi, I'm very approachable and would love to learn new things about your tamariki and whānau.
I am planning on studying next year for my bachelors to become a registered kaiako, you will see me for mostly lunch time covers. I love working with the tamariki and watching them grow and become more independent. I also enjoy learning the different cultures and family values.
I love anything to do with food and have experience in working in the kitchen. I'm a big family person and love being around positive people and experiencing new things.