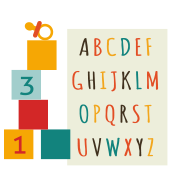 >
The Okara Team
This is our team of teachers and staff at Educare Okara. Scroll through to find out more about our teaching team.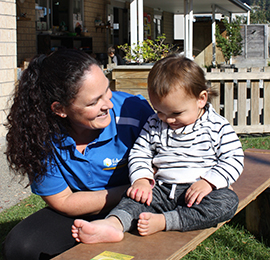 Alicia White
Centre Manager, Registered Teacher
I joined the Okara whānau in 2017 and am excited to work alongside you and your tamariki.
I hold a Bachelor of Education, Diploma of Teaching (Primary) as well as a diploma in Early Childhood Education.
I was born and raised in Whangarei, leaving to study in Auckland then to travel and work around the world.
Upon completing my Degree at Auckland College of Education, I went onto work as a relief teacher in schools and then as a full time Private Nanny.
This was an amazing privilege, taking me around the world working and living in Egypt, Bermuda, United Arab Emirates and the UK.
I moved back to NZ in 2015 and settled back in Whangarei where I live with my young son.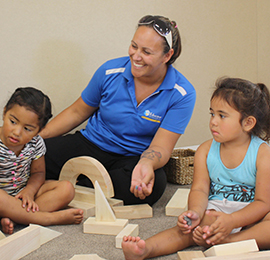 Haley Chapman
Assistant Manager, Registered Teacher
Ko Ngatokimatawhaorua toku waka
Ko Pouerua toku maunga
Ko Waitangi toku awa
Ko Te Tiriti o Waitangi toku marae
No Waitangi ahau
Ko Haley Chapman ahau
Ko Jamie taku tane
Ko Jorgiah, ko Locklynd, ko Kelly, ratou ko Toby aku tamariki
I am Haley Chapman and I live in Kamo with my partner Jamie and our four children. We enjoy getting out and going for random road trips and seeing where we end up. I have been in Early Childhood Education since 2012, my journey started as a cook, and in 2016 I completed my degree in Early Childcare Education. I am passionate about working with young tamariki, and am working towards building a stronger understanding of Te Ao Māori! I love to see their pride as they achieve milestones and goals they have set for themselves.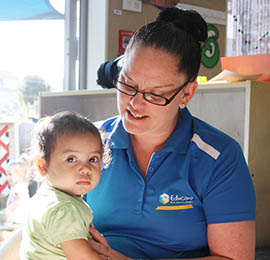 Karla Macken
Team Leader Registered Teacher
My name is Karla. I have been lucky enough to have worked in the Educare Okara team for the past several years, and have now become a permanent member of the team working full time as I have recently graduated with my Early Childhood Degree.
I look forward to getting to know you all and work alongside you and your tamariki and continuing to work alongside a great team.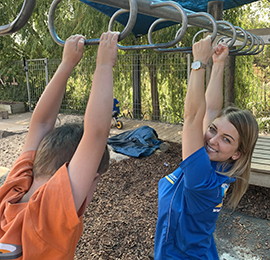 Lisa Cunningham
Registered Teacher
Kia ora my name is Lisa Cunningham and I am a kaiako in the over twos at Educare Okara.
I hold a Bachelor of Education in Primary Teaching, and graduated in 2014. I've enjoyed working in both the primary and early childhood sector of education and am excited to continue learning and growing alongside your tamariki. Lisa is currently on maternity leave.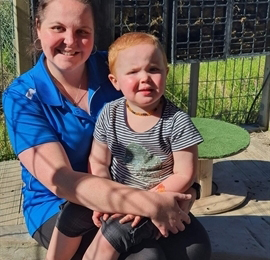 Melissa Wendt
Registered Teacher
Hi I'm Melissa. I'm originally from Maungakaramea, where we lived on a farm and raised many animals. I attended Maungakaramea Primary School and Whangarei Girls High School. I am primary school trained, and graduated in 2015.
I got married to my husband Ben in 2015 and we had Lucas in 2017, who also attends Educare with me. I have two step children Riley who lives in Perth and and Ivy-Rose who lives with us. 
I look forward to meeting you all and sharing wonderful experiences with the tamariki. I have many hobbies which include dancing, growing vegetables and being more sustainable with our rubbish including having a worm farm and composting.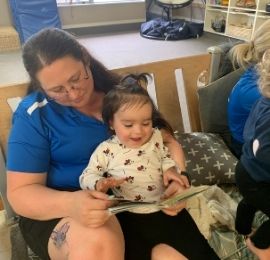 Claire Tuff
Registered Teacher
Kia ora whānau, my name is Claire Tuff.
I'm originally from the North East of England and moved to Whangarei in August 2017 with my husband, Richie, and daughter, Rosie.
I completed my Graduate Diploma in ECE Teaching and came back to Educare following this. I am passionate about quality care experiences and developing nurturing relationships with nga tamariki. Under 3's is my passion and I am excited to have the opportunity to work with this age group here at Okara. I'm excited to get to know your tamariki and be a part of their learning journey.
Outside of work I enjoy spending time with my family, I love all things Disney and to travel as often as I can.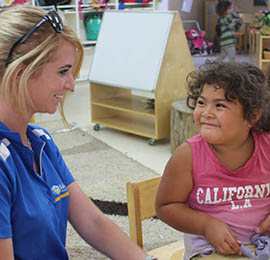 Nicole Wallace
Registered Teacher
Kia ora my name is Nicole and I am one of the kaiako in our up to 3's area.
I have a strong passion for working with tamariki and find it so rewarding to be apart of their success. I have had experience in working with all ages for the past nine years, and continue on this passion here at Educare Okara.
I received my bachelor of Education (ECE) through Te Rito Maioha in 2016, and am now on my journey to becoming a fully registered teacher.
I enjoy the outdoors and making the most of our natural environment. I also like to express creativity through art and crafts with our tamariki.
I look forward to meeting you and your tamariki.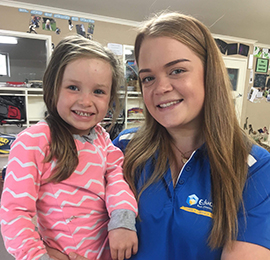 Anna Mackie
Teacher in Training
Kia ora my name is Anna Mackie and I have had the opportunity of returning to Okara Educare after living overseas in Canada since March 2017. I am now back at Okara and will be starting my degree in early childhood education starting the beginning of 2019. This is very exciting for me as I get to complete my studies at this wonderful centre, as well as working and learning alongside you your tamariki.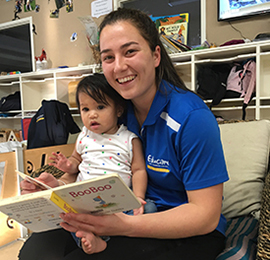 Taylor Ball
Teacher in Training
My name is Taylor Ball and I am lucky enough to be one of the Early Childhood Teachers here at Educare Okara.
I was born and raised in Whangarei and started my teaching journey through Auckland University where I completed year one of a Bachelor of Education (Primary), later realising that my passion was with the younger children. In March 2019, I got a job at Educare as a reliever before securing a position at Educare Okara in May. In July 2019 I am starting to study towards my Bachelor of Teaching Early Childhood, which I aim to accomplish in 2022. This is very exciting for me as I get to complete my studies at this awesome centre, supported by such a great team.
I look forward to getting to know you all as we continue to work alongside your tamariki and your Whānau.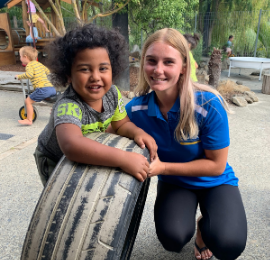 Jane Heapy
Teacher
Hi there I am Jane Heapy

I am a vibrant and energetic person , I share my family's interests in all things in the water , I have previously been a gymnastics coach and also have competed nationally in performance aerobics. I love my new found occupation with aspirations to begin studying towards an ECE degree. I look forward to supporting your tamariki on their learning journey.