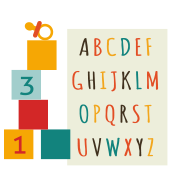 >
The Orewa Team
This is our team of teachers and staff at Educare Orewa. Scroll through to find out more about our teaching team.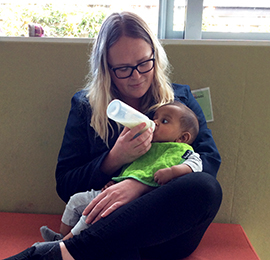 Cheryl Nicolle
Centre Manager
Kia ora, ko Cheryl toku ingoa. I am excited to be a part of the Educare Orewa whānau, working alongside the wonderful team as the Centre Manager. I am a qualified and fully registered Early Childhood Teacher.
I strongly believe in respectful partnerships, valuing the importance of building relationships with children, whānau and colleagues that are reciprocal and help us to 'dance' together in the care and education of our youngest, most vulnerable citizens. My practice is influenced by the principles and practices of the Pikler approach. I believe it is important to slow down, be present and spend time observing. Additionally, I value the importance of nature and being immersed in it to develop a healthy mind, body and soul.
In my free time I like to explore and go on adventures.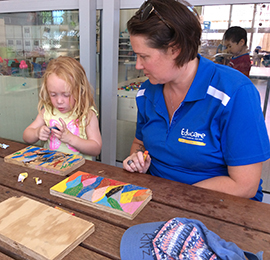 Teigan Verduyn
Assistant Centre Manager, Registered Teacher
Hi my name is Teigan and I have a Bachelor of Education in teaching and are a fully registered teacher.
I live in Waitoki with my Husband Duncan, our beautiful daughter Frankie, who you may have seen at the Centre with me, and our dog Penny. I enjoy spending time with my family. I feel that every child has a different learning style and pace and each child is unique, not only capable of learning but also capable of succeeding.
"While we try to teach our children all about life, our children teach us what life is all about" – Angela Scwindt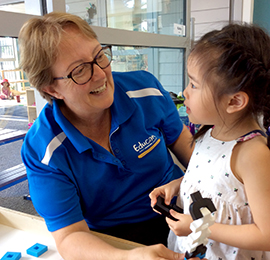 Tracy Acott
Registered Teacher
I'm Tracy, and I am excited to get to know your children and families at Educare Orewa.
I have over 15 years of Early Childhood Education experience. I attended AUT where I graduated with a Bachelor of Education qualification in 2011.
I live in Hatfield's Beach, and have one daughter who is also teaching at an Early Education Centre in Albany. I enjoy socialising with friends, reading, swimming and gardening.
I believe children are naturally curious and capable and are able to lead their own learning with the guidance, patience and respect of teachers.
I am passionate about promoting children's connection and learning in nature and developing their understanding of the principles of sustainability and respect for our environment.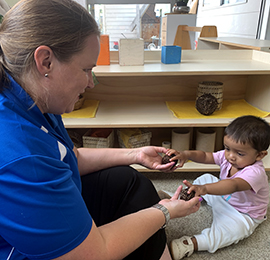 Samantha Ranwell
Registered Teacher
Kia ora, my family and I have recently moved to Orewa from the North Shore and we are excited to learn about our new community. My family is from South Africa, moving to New Zealand in 2007. I have two sons, Calvin and Declan. Both boys keep me busy with all sorts of hobbies, and our family are keen cricket fans. Calvin has Down Syndrome and because of our family's personal journey, I have a passion for special needs education and the benefits of early intervention. Prior to studying teaching, I spent many years in the travel industry and still have a passion for travel and different cultures. I have been working in early childhood education since 2011. I am excited to work alongside Cheryl and the team and implement the centre's values and philosophies into my own teaching practice.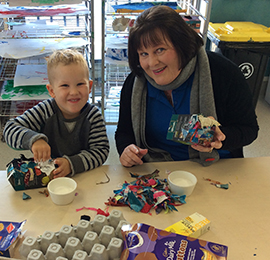 Fiona Walker
Teacher
My Name is Fiona. I was born in Ledston in England. Our Family Emigrated to New Zealand in 1974, and I am the oldest of 3 siblings. I am married to Mike and we have a Son Liam who attends Auckland University.
I have worked in Early Childhood since 2011, and have a real passion for encouraging children to explore new things. I love arts, crafts and messy play of many sorts. I also enjoy mat time, sharing news, stories and dancing to music. My interests are quilting, sewing, long walks and spending time with Family and Friends.
I hope to make your child's learning journey here at Educare Orewa a time that they will remember fondly.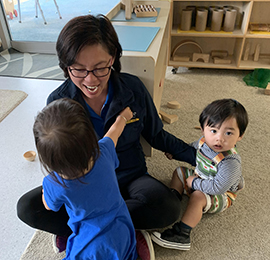 Mayde Orio
Teacher
Kia Ora! I'm Mayde, originally from the Philippines. My family and I moved to New Zealand in 2010. I have two sons; Steven and Bronny.
I enjoy travelling to different places, nature walking and playing ball games. I like to have my camera with me to capture wonderful moments and the beauty nature has to offer. I also love fashion and going shopping with my boys.
I gained my early childhood qualification in the Philippines, had experience working overseas and here in New Zealand. My knowledge and skills equipped me to provide excellent care and a safe environment for your child.
I am so excited and looking forward to meeting and working alongside your children and whānau.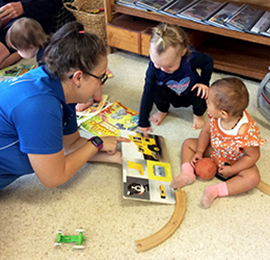 Ashley Blundell
Registered Teacher
Kia Ora my name is Ashley, I have finished my Bachelor of Teaching degree with Open Polytechnic and am now working towards being a registered teacher. I have relocated from Whangarei and have been working in early childhood for over 4 years. I am looking forward to my new journey here at Educare Orewa. In my spare time I enjoy spending time at the beach, fishing, going on road trips and spending time with family and friends. I am looking forward to getting to know everyone and helping support the children to grow and develop their individual learning journey.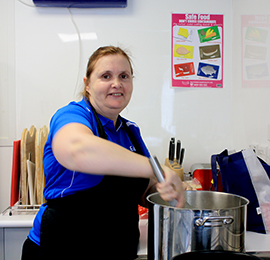 Sheree Sullivan
Nutritionist
Hi I'm Sheree, I grew up in Dargaville but have lived in Auckland for many years with my husband Sean and daughter Kayla. I am a qualified chef by trade. I have worked in childcare for the past 9 years cooking and have loved it. I look forward to serving up lots of delicious and nutritious meals for the children and getting to know everyone at Educare Orewa.
Kelly Hayes
Administrator
Kia ora, my name is Kelly and I am the centre administrator. I was born in New Zealand and have grown up in the Rodney District.
I have worked in Administration in one form or another my whole working life and love it!
My fiancés name is Jordan and we live in Orewa with our son Max, who attends this centre.
I love being part of the team here and being part of your children's learning and development.