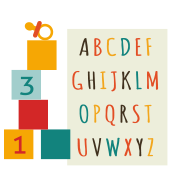 >
The Tawa Team
This is our team of teachers and staff at Educare Tawa. Scroll through to find out more about our teaching team.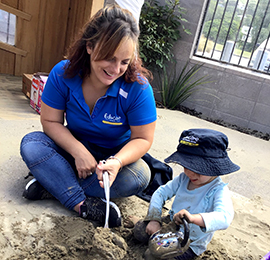 Tessa Drowley
Acting Centre Manager, Registered Teacher
Hello I'm Tessa, I currently live locally in Tawa with my daughter Madison. I have a Bachelors degree in Early Childhood Education. My passion in early childhood education is building relationships with the children and their families.
I also have a strong passion for giving children different ways to express themselves through music, dance and crafts. I am looking forward to building long lasting relationships and getting to know the children of Educare Tawa.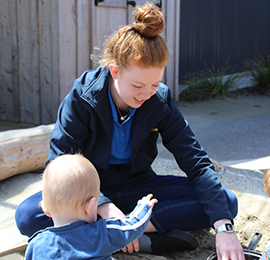 Rebecca Warnock
Centre Manager
Kia ora, my name is Rebecca, I have spent my life living in Palmerston North and moved to Porirua for this wonderful job opportunity as Centre Manager of Educare Tawa and to live with my partner James.
I have a Bachelor of Teaching in Early Childhood Education and I am a fully registered teacher. I began studying through NZ Tertiary College and quickly found my place and passion for teaching, becoming a full time teacher in 2012. In my spare time, I love to go on big walks, bake (shortbread is my specialty), read, and get stuck into anything crafty. Developing relationships that foster and support the tamarikis ongoing learning and development is the most special and important part of my job.
Rebecca is currently on maternity leave.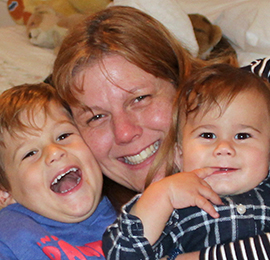 Elinor Blackler
Team Leader Puawai Room, Registered Teacher
My journey in Early Childhood Education began as a desire to be the best parent and first teacher to my two own children.
Over 20 years later, having gained both my primary and ECE degrees, I enjoy using my knowledge and skills to teach children.
I live locally with my husband and visit my gorgeous grandchildren in Tauranga as often as possible. I believe that children deserve loving, caring, passionate teachers who use any form of pedagogy to achieve the best possible results for children's growth, development and learning.
I am very excited to be part of the Educare whānau and am looking forward to getting to know you and your family.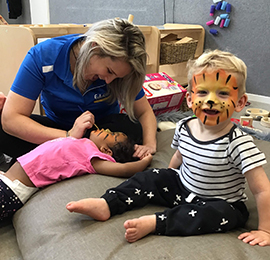 Jen Dahlberg
Registered Teacher
Kia ora! I'm Jen. I am a qualified early childhood teacher. I live in Whitby with my husband Jeff and our cat Tilly. I have specialised over the years in educating toddlers aged 18 months to 2 and a half years. I am very passionate about teaching this age group. I enjoy contributing to the intellectual, social, emotional and physical development of the children in my care. I am really excited to be working back in Tawa, being part of an awesome team and community. I can't wait to get to know you all better!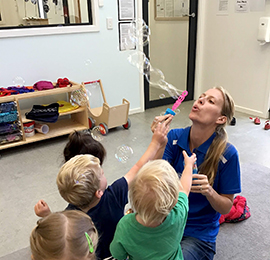 Kate Chapman
Registered Teacher
Kia ora, I'm Kate on of the fully registered staff members here at Educare Tawa and hold a BA / BTeach in Early Childhood Education. My experience is with infants and toddlers but I love working with all age groups. I live locally in Tawa and my son Kingston is also joining us here at Educare.
I love being in the outdoors and out in nature and like to bring those aspects into my teaching practice. I believe in building strong bonds with the tamariki and their whānau and look forward to getting to know you all.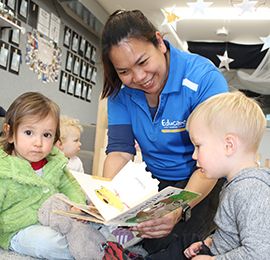 Mem Dela Rosa
Registered Teacher
Kia ora, I'm Mem. I live in Johnsonville with my family and my teenage daughter, Danielle. I grew up in Manila, Philippines and moved here a few years ago to further my teaching practice and experience. I'm a fully registered teacher and am currently studying towards my Postgraduate Diploma in ECE Leadership. I love being with very young tamariki as they are discovering so many things around them and it's amazing to guide and nurture their growing hearts and minds at this stage of life. I'm happy to be part of Educare Tawa and looking forward to collaborating with whānau and kaiako here.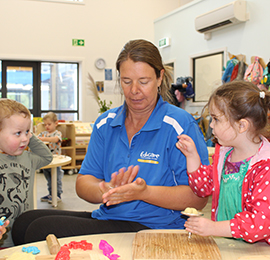 Rachael Porter
Registered Teacher
Hello my name is Rachael. I have been living in Canada for the past 26 years and am now back home. I have been working with children of all ages since my after school job at the age of 13. I love being outdoors and watching children explore their surroundings. I'm passionate about our future adults and want them to thrive with every opportunity. I look forward to making a connection with you all.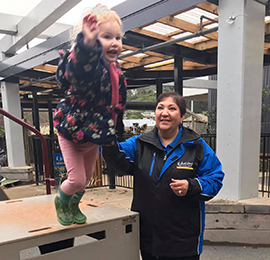 Malinda Williams
Registered Teacher
Goeie day, my name is Malinda.In 2002 moved from South Africa to Aotearoa and established ourselves in Tawa, I feel very privileged to be part of this amazing community. I am a registered early childhood teacher. I love learning about other cultures and beliefs as I come from a multicultural background, and I understand the importance of learning about and celebrating other cultures. Providing tamariki with a sense of belonging and making sure they feel valued, respected and safe is of the utmost importance to me. It is a privilege to watch our tamariki grown and learn while working in partnership with their parents and whānau. 
In my spare time, I enjoy spending time with my family and friends as well as reading, paddle boarding and exploring our beautiful New Zealand.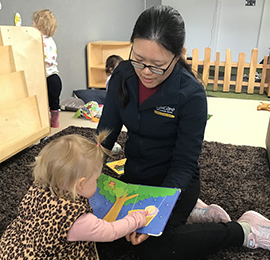 Violet Zhang
Provisionally Registered Teacher
Hello, my name is Violet, and I come from China. Currently, I live in Grenada Village. I have a Graduate Diploma in early childhood teaching, and I'm studying towards my full registration. I grew up in an extended family, and I believe families are the compass that guides us. My philosophy is to be respectful and to nurture - this is influenced by my Grandma, who is a secondary school teacher. I love being with children and supporting them to be confident learners. I'm very excited to join Educare Tawa and get to know tamariki, whanau and kaiako here.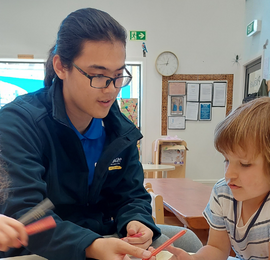 Hua Yang
Provisionally Registered Teacher
Kia ora! My name is Yang. I'm a provisionally registered teacher and I'm living in Johnsonville. I graduated from NZTC College and hold a Graduate Diploma Degree in Early Childhood Education. I have spent most of my time with children over 2 years old and I believe in the power of children! I love to use my knowledge to support tamariki's holistic development. I'm very happy to be part of the Educare Tawa team and look forward to getting to know you all.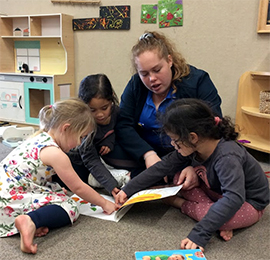 Rebecca Hudson
Provisionally Registered Teacher
Kia Ora, I'm a qualified teacher with a bachelor of education (primary) but found my passion with ECE due to the growth and development that is made in these essential years and seeing the wonder and curiosity in their eyes.
I grew up in Whangarei. I am a very passionate sports person with my craft being hockey. I have represented Northland on multiple occasions. I also love to coach and develop young sports people and get them out there being active. I also love to adventure and do freelance photography.
I look forward to growing as a Kaiako, forming and building relationships with your children and whānau and other important people in your lives.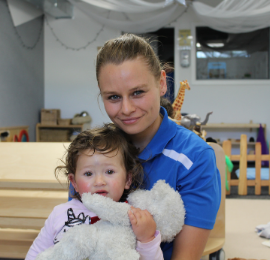 Hayley Pickering
Teacher in training
Kia ora, my name is Hayley Pickering. I grew up in the northern suburbs of Wellington and currently live with my family in Woodridge. I have worked with children for the last 7 years and was lucky to find my passion within ECE. I am starting my Graduate diploma of Teaching with Te Rito Maioha and look forward to continuing to learn and grow as a teacher. Outside of work I love to read, cook, Zumba and walk my dog. I'm excited to be staying on in the Tipu Room and continuing to build strong relationships with tamariki and their whānau. I am passionate about empowering children to grow and learn and allowing them to flourish as individuals in their first few years with us here at Tawa Educare.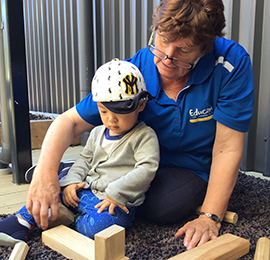 Trish Gibson
Teacher
Kia ora, I have been a resident of Tawa for the past eighteen years where I live with my partner and teenage daughter, and I also have 3 older children.
I have worked in Early Childhood for over fifteen years and love watching as our children develop their personalities and become more capable and confident as they grow. Seeing the look of excitement on children's faces as they learn a new skill or discover something that interests them is a real pleasure.
I am looking forward to working closer to home and becoming part of the Educare Tawa family.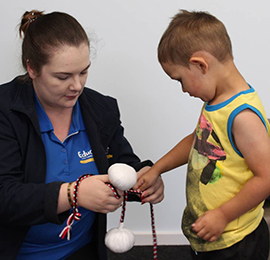 Elanor Downes
Teacher
I'm Elanor, I became passionate about teaching when I was 17 and started doing placements through my high schools Gateway programme. Before working with Educare, I worked in after school cares around Johnsonville, so I'm looking forward to now working with younger age groups.
I am really looking forward to getting to know the team and community here in Tawa.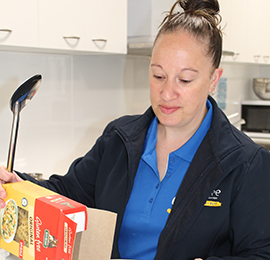 Michaela Cherrie
Nutritionist
My name is Michaela Fiances Ebbett Cherrie.
I have been a nutritionist at daycare centres since 2006, and have worked in daycare centres in various roles since I was 20.
I am knowledgeable in food nutrition, food preparation, meal planning, dietary requirements and food handling. I also have all current food handling certificates.
I'm excited to start my new role at Educare Tawa and am here for any parent requests, so please feel free to come and have a chat with me. I am here to make sure your children receive a healthy balanced diet while here with us at Educare.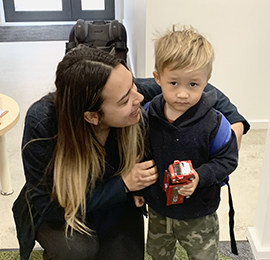 Tiana Waara
Administrator
I'm Tiana, the new centre administrator here at Educare Tawa. I was born and raised in Porirua, and have recently just moved back after being away in Horowhenua for two years. Whānau means absolutely everything to me, and I have been lucky enough to have both my son Brayson, and daughter Kaia, join me and start their new journeys here also!
I'm excited to begin my new role here within the team, and I look forward to getting to know all the tamariki and their whānau more!