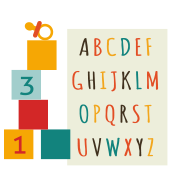 >
The Tikipunga Team
This is our team of teachers and staff at Educare Tikipunga. Scroll through to find out more about our teaching team.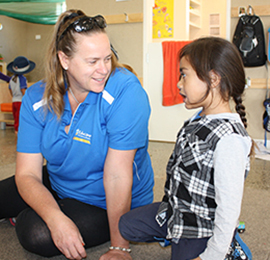 Kim Maera
Centre Manager
My journey to become a qualified early childhood teacher began with training as a primary teacher in Waikato. After graduating I worked for 17 years in both Kaitaia and Whangarei. I loved being a teacher, learning and working with children, so I decided to have one of my own. With my son being born in 2009 I was fascinated with how amazing our little tamariki are, this led me to quit my senior teachers role and work in early childhood.
While I worked, I gained an early childhood diploma in 2014, and I still get amazed everyday as I observe, play and learn alongside children, our tamariki are miharo!
I look forward to getting to know all the whānau and tamariki at Educare Tikipunga.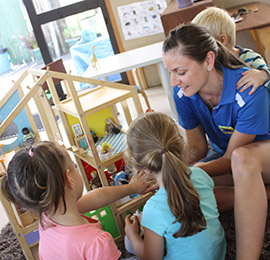 Hollie Brotherhood
Team Leader
Originally from England I moved to New Zealand with my husband in 2005, and we made Whangarei our home. I qualified as an early childhood teacher in the UK and have experience working in English preschools and New Entrant classes. Since living in New Zealand I have had experience working in different centres in Whangarei, and have my teaching Diploma and Bachelor of Teaching Degree.
I also have my own three little kiwis Ivy, George and Pearl, and so understand the joys and stresses of being a mum. Pearl is also Educare Tikipunga with me.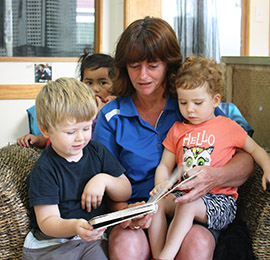 Christine Colls
Registered Teacher
Kia ora. My name is Christine Colls and I am one of the teachers in the Teina space.
Over the years I have gained experience in several centres around Whangarei and have a passion for working with infants and toddlers.
I have full teacher registration and a degree in Early Childhood Teaching.
I live on a lifestyle property with my horses, dogs and cats.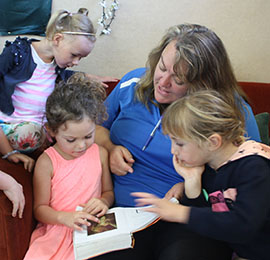 Robyn Megchelse
Registered Teacher
Kia ora my name is Robyn, I grew up in Kamo with my parents, grandparents and two sisters on a ¼ acre block. Most of this land was planted in fruit trees, an extensive vegetable garden and beautiful rockery gardens. From this I have developed a love of the natural world and am fascinated with bugs (although still scared of some). I hope I can share this passion with some of your children as I did my three girls. I look forward to getting to know more about you and your tamariki.
Arohanui.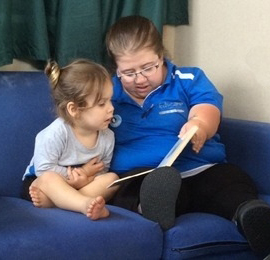 Mikaela Singleton
Registered Teacher
My name is Mikaela, and I am a provisionally registered teacher. I was born in England, then spent my early childhood years in Rotorua, where my Mum's family is from. I moved to Whangarei in 2001, went to Morningside Primary School and then Pompallier Catholic College.
I have a Bachelor of Teaching and Learning (Early Childhood) from the University of Canterbury. After spending three and a half years living in Christchurch to study I returned to Whangarei in 2017. I am excited about working at Educare Tikipunga and with all the amazing tamariki within.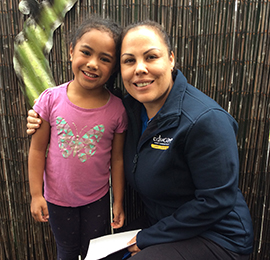 Melody Ellice
Teacher in Training
Kia ora, my name is Melody, I have lived in Whangarei since 2015, after moving to be closer to my Whānau. Currently, I am completing my Level 4 ECE and have applied to start my Bachelor of Teaching in 2021. My passion to teach came to me after raising three beautiful girls. Watching them learn while being completely opposite of each other, fascinated me. I am excited to be a part of Educare Tikipunga, and I am continually learning new skills and knowledge from this amazing team.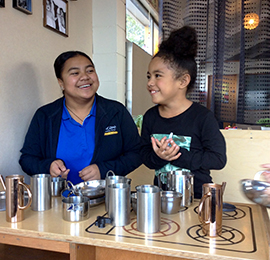 Nirvana Hita
Teacher
Kia Ora, my name is Nirvana and I am a Māori girl from Whangaruru and Waikare. I grew up around loving tangaroa and I've spent most of my life with whãnau. I have completed my level 4 in foundation teaching and my level 5 diploma in early childhood education. My passion for teaching has come from teaching my nephews and nieces new and different things. My personal philosophy has always been to pass on my knowledge to others. As a kaiako I would not only love to share my knowledge but I hope to learn valuable new things also.